Murder By Death: Bitter Drink, Bitter Moon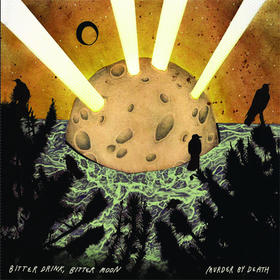 The members of Murder by Death have aptly referred to their brand of gothic, old-West tunes as "dark whiskey devil music." They have a plethora of songs that serve as musical yarns concerning revenge, or murder, or any number of tragic themes for that matter. Concept albums about the devil destroying an entire town in Mexico sit side by side with tales of pirates at sea or odes to Kentucky bourbon.
Bitter Drink, Bitter Moon fits perfectly within the band's wheelhouse, but it also serves as step forward in their music. "My Hill" is a mournful number that opens the record with a slow burn before transitioning into "Lost River," a soul-lifting song that is the first indication the band decided to expand their sound on this album. Murder by Death's music has always featured a slightly orchestral element due to cellist Sarah Balliet's incredible contributions. In the past, Balliet's cello sounded out slow, heart-stirring funeral notes or intense, climactic murder music. But on Bitter Drink, the cello work more often soars rather than weeps, producing an effect rousing rather than anguished.
The band has been increasingly experimenting with upbeat songs over the course of their career. However, as frontman Adam Turla has said before, "upbeat" doesn't necessarily mean "happy," and the same is true with the material on the band's most recent effort. But never before has Murder by Death sounded so uplifting. Several of the tracks affect a sensation that seems to draw inspiration from the likes of Arcade Fire or Karen O's soundtrack to Where the Wild Things Are.
Side A of the album is characterized by an emotional high with raucous bar sing-alongs like the record's single "I Came Around" and "Hard World." But the second half of Bitter Drink takes on a more somber attitude. "Queen Mab" is a dark, instrumental track that perfectly captures the gloomy atmosphere that plays host to songs like "Oh, To Be an Animal," which contains the refrain "It's the loneliest of times." Turla's low, baritone voice has oft been compared to the legendary Johnny Cash, but "Go to the Light"—a song about, you guessed it, death—is one of the best cases for such a claim. "Ghost Fields" closes the album perfectly with a moving number that, at its roots, feels like a country song, but the horns, crashing drums and heavy guitars that are present later in the track transform the song into a sweeping epic. "She bends with the wind, and he shifts like sand," Turla sings poetically before unnecessarily apologizing. "I try to explain, but I'm not an eloquent man."
Put simply, Bitter Drink, Bitter Moon is Murder by Death's most beautiful album to date. It is a robust record brimming with all the qualities we love about the band while taking the music in a new direction. This is a band that has somehow managed to fly just under the radar of most, but if there was ever an album to put them on the map, it's this one.
Others Tagged With