The Mindy Project Review: "Pilot" (Episode 1.01)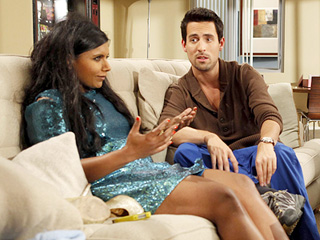 Actress, comedian and writer Mindy Kaling has returned to TV for her next undertaking, aptly titled The Mindy Project. Kaling stars as a young OB/GYN searching for love and happiness with all the neuroticism that only she could pull off. It's a premise with promise for lovers of romantic comedies, but if the pilot is any indication, the show isn't off to a running start.
The first episode works hard to stuff as much as it can into those 20 minutes or so, and as a result feels all over the place. It's a revolving door of characters whose names you won't remember and situations that begin to feel familiar. In the first episode, we learn the following: Kaling is a (somewhat) successful doctor obsessed with romantic comedies and finding her perfect man. She doesn't take rejection well (see: the ex-boyfriend's wedding), is currently sleeping with Sexy British Accent Doctor (Ed Weeks) and bickers often with Sexy Asshole Doctor (Chris Messina), who she will surely end up sleeping with at some point. After a bad breakup, she's trying desperately to get her life in order, a task that's obviously going to take more than a blind date with Ed Helms.
The Mindy Project's humor is a mix of typical Kaling sass and a weird, sometimes slapstick-y situational comedy. Some of it works, and some of it doesn't. Moments like Mindy's drunken pool dive are a little too out there and take the show somewhere into cartoonish territory. Worrisome too are the show's fallback archetypes. The doctor aspect is so overdone in TV land today that The Mindy Project will need some other catch to make it appealing. Familiar too is a very Sex and the City-style narration, but romcom fans will probably find this the most appealing.
The Mindy Project has the potential to be a charming, quirky comedy with a knack for relationship humor. But it's new, and like all newborns, it'll take some time to get on its feet. This is a show to keep an eye on, even if the pilot doesn't live up to expectations.
Others Tagged With