Various artists: Lowe Country: The Songs of Nick Lowe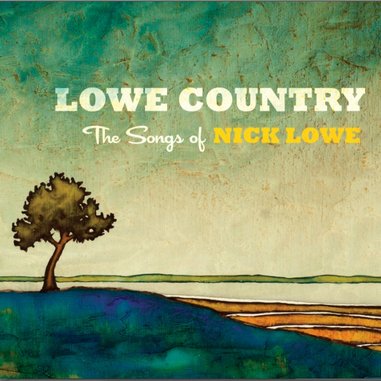 This country-fried tribute to the tunes of revered and resilient English songwriter Nick Lowe is for a good cause—proceeds from its sales go to benefit victims of the 2010 Nashville floods and Texas wildfires of last year—and for that it should be commended, but as a record, it leaves much to be desired.
Over his 40-plus year career as a musician and producer, Lowe has proven himself as one of rock's most adept songwriters. I mean, the man wrote "(What's So Funny 'Bout) Peace, Love, and Understanding" for God's sake; there is certainly no shortage of material here. And it is the quality of the catalog and potential it provides that make these languid, twangy interpretations by otherwise promising artists, marketed as a lineup of up-and-coming, "left-of-center" musicians, all the more disappointing.
Young Nashville singer Caitlin Rose kicks things off with the regret-laden "Lately I've Let Things Slide." Rose does an admirable job of conveying a mournful but almost indifferent attitude towards regressing back into bad habits (smoking, for example), and the song is all-together pleasing. But the weepy pedal steel and tinny bar-room piano sound anything but left-of-center. Same goes for The Parson Red Heads' electric-country take on "Don't Lose Your Grip On Love" and the appregiated, tear-in-beer "Lover Don't Go" from songwriter Erin Enderlin—capable, but ultimately forgettable efforts.
Still, some relief comes in the form of Texas troublemaker Robert Ellis and the refined scuzz of brother-duo JEFF The Brotherhood, who seem to be the only ones having fun with Lowe's songs. Ellis delivers a cheeky, honky-tonk-ready version of "All Men Are Liars," drawling out comical lines like, "Girls, bring rusty pliers to pull this tooth, because all men are liars," and the brothers Orrall kill with their combination of rag-tag basement country and '70s glam riffage on "Mary Provost," the tribute's most immediately enjoyable track. Ron Sexsmith also turns in an effort worth remembering on the intimate closer "Where Is My Everything," where he forgoes the bells and whistles of modern country for a moving and simple guitar-and-vocal rendition.
Lowe's songs stand on their own, and there is a lot of nice-sounding music on this record. But while there is nothing hateable here—Amanda Shires, Hayes Carll and Colin Gilmore all sound adequate—there is also very little to love. The rebelliousness and playfulness promised and hoped for are glaringly absent and the listener is, unfortunately, left with a collection of songs that wouldn't sound out of place coming from the speakers of your local Starbucks.