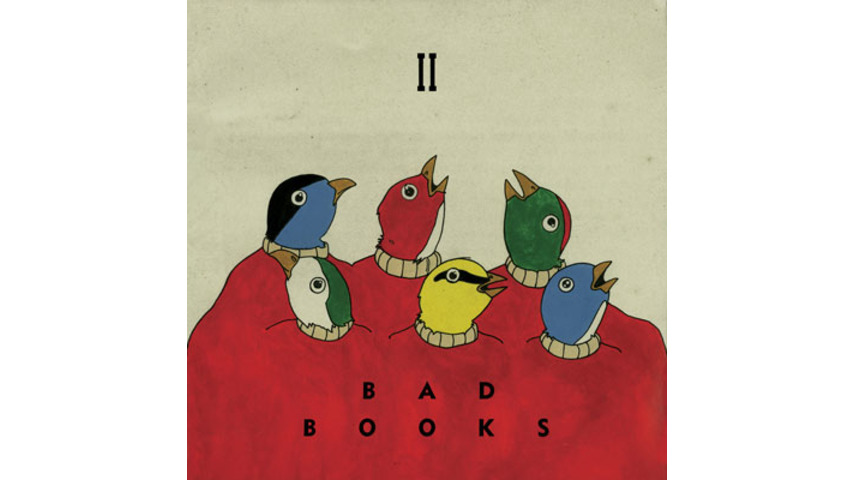 A lot has happened since Bad Books' debut album was released in 2010. In 2011, Manchester Orchestra released their third studio album, Simple Math, and Kevin Devine released his sixth, Between the Concrete and Clouds. 2012 has already seen Manchester's own Andy Hull complete his Right Away, Great Captain! trilogy with The Church of The Good Thief, while Devine and his Goddamn Band released a live EP, Matter of Time. Across the board, both acts have pushed their individual sounds and on II, the experience shows.
Building on a personal and working friendship going back as far as 2007, Devine and Manchester Orchestra have toured together and even released an EP where they covered each other's songs, but Bad Books saw the two truly come together. Made up of Hull, guitarist/producer Robert McDowell, keyboardist Chris Freeman (who also contributed the album artwork) and bassist Jonathan Corley of Manchester Orchestra, drummer Ben Homola and Kevin Devine, II plays more like one group playing off of their strengths rather than a combination of two acts, each trying to outshine the other.
Once again, Devine and Hull share the role of songwriter, each alternating delivering memorable melodies with the other lending well-crafted harmonies from not too far away, all the while illustrating the often haunting stories within, filled with observations you wish you had made yourself. While the songs on Bad Books felt less connected at times, they flow wonderfully on this second effort, harkening to the seamless chemistry of duos like Lennon-McCartney, Simon & Garfunkel or the Johns of They Might Be Giants—masters of the craft familiar with how to lead and assist.
While Devine brings rockers like "No Reward" and his stand-out "It Never Stops," Hull offers a back-and-forth anthem in "The After Party," where he bounces between "It's so good to be alone / Oh I need to be alone" only to discover that "I hate being alone." Lead-off single "Forrest Whitaker" should have everyone whistling and singing along in no time, while "Pytor," an unnerving tale of a tsar placing his wife's lover's head in a jar told from the perspectives of the ruler and the head, hits heavy and deep with little more than an acoustic guitar while showing Hull's powerful songwriting ability. The moody "Friendly Advice" fits perfectly between the latter and Devine's pop number "No Sides" before the album begins to slow things down with the mid-tempo ballad "Petite Mort," where Devine sings "I left you there to finish starting fires / I left there to propagate your lies / I left you there cause honey I was tired / I left but that doesn't make it right." Both Hull and Devine deliver some of their best vocal performances to date as well as the deeply personal, introspective lyrics that they are known for on tracks like "42," "Lost Creek," and "Ambivalent Peaks."
On II, Bad Books have proven that they are more than Manchester Orchestra with Kevin Devine or vice versa by dropping any ego and making a cohesive record. Thankfully, all of us reap the benefit.
Others Tagged With