John Baizley Confirms Baroness Will Continue After Bus Crash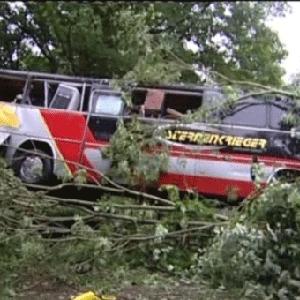 Baroness took to their website this morning to offer fans an update regarding an accident that occurred while the band was touring in the U.K.
According to the account, the brakes on the tour bus failed completely while descending a dangerous 12 percent grade hill in Monkton Combe, U.K. Following the failure of the brakes, the bus driver had no choice but to steer the vehicle for an impact with a guardrail at the bottom of the hill while traveling around 50 mph.
Given the speed at which they were traveling and the location of the crash, it is no surprise that both local residents and police are amazed that all survived the impact. The band's frontman, John Baizley, confirmed that Baroness will continue to tour and record music after recovery:
"We cannot allow this accident, which I believe is unrelated to the band or our music, to slow down or stifle what has become so much more than a passionate hobby for the four of us. Through Baroness, we have discovered a method by which we may harness our drive to create, and channel all the emotion, anxiety and pain in our lives into something constructive. Music is the universal means of communication we have chosen to express ourselves."
For the full firsthand account of the crash, including post-impact injury photos, visit the Baroness website here.
Got news tips for Paste? Email news@pastemagazine.com.