Beatles Fans Set World Record to Celebrate 50th Anniversary of "Love Me Do"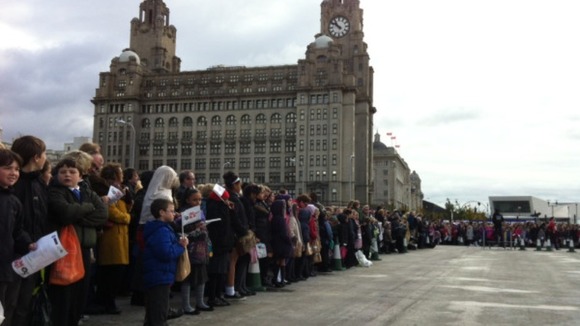 Today marks the 50th anniversary of the release of the Beatles first single, "Love Me Do." To celebrate the song's golden anniversary Beatles fans gathered in Liverpool for a giant sing-along that landed them in the record books.
According to BBC News, over 1,631 fans gathered together at the Pier Head in Liverpool to sing rounds of the band's first single, setting a new world record for most people singing in a round. This number almost doubles the previous record, which was set in Chicago for the 25th anniversary of Ferris Bueller's Day Off. To celebrate the anniversary of the movie, 897 voices sang "Danke Schoen" at Wrigley Field.
Guinness World Records has strict guidelines for the record. To be considered, two or more voices must be singing the same melody but with voices staggering their starting times. To officially rule that the record had been broken, a Guinness World Records representative was there to take the official count. The record-breaking attempt was a part of a year-long program that marks 50 years of the Beatles. This event was organized by the Beatles Story and Albert Dock with support from the Liverpool City Council.
To ensure that the singing went off without a hitch, they arranged for the group to be led by professional singers and members of the Liverpool Harmonic Gospel Choir. It also featured children from various schools in the area as well as fans from all over the world.
It is hard to believe that it was 50 years ago that the Beatles first made their way onto the charts. What is even more hard to believe, is "Love Me Do" debuted at number 17 on the charts the day it was released. Be sure to celebrate the Beatles' golden anniversary by listening to "Love Me Do" below.
Got news tips for Paste? Email news@pastemagazine.com.
Others Tagged With