Ben and Kate Review: "Emergency Kit" (Episode 1.05)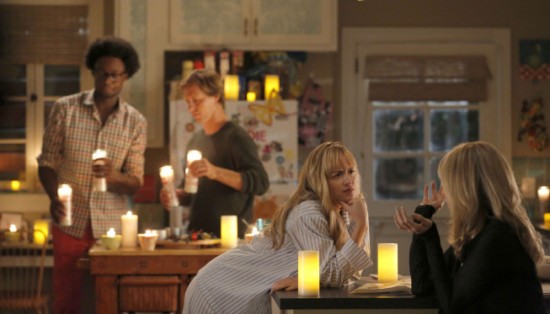 In only a handful of episodes, Ben and Kate has been able to become a very funny show while also having touching family moments without playing as cheesy, even with its hilariously sappy theme song. "Emergency Kit" is an enjoyable half-hour of television, thanks to some great supporting players, but an incredibly awkward finale that does fall into the cheesy becomes the episode's downfall.
"Emergency Kit" has Ben and Kate battling over each person's ability to be prepared for emergencies that may come to Maddie. Kate has a gigantic case full of medical supplies and hidden dufflebags filled with beans around the house. You know, in case of emergencies. Ben believes all he needs is his instincts and when that doesn't work, duct tape. Ben then creates a situation that he doesn't think that Kate will be able to plan for, a do-it-yourself zombie apocalypse.
But the highlights of "Emergency Kit" come from the increasingly great supporting actors. BJ has a date with her boss, Buddy, played by Rob Corddry. Corddry is as unusual and creepy as anyone who has ever seen him in Children's Hospital would hope he would be, and he matches the weirdness levels of BJ. Thankfully Corddry's story isn't closed out and he'll be returning later on. Ben also has a crazy suitor, his ex Louise, played by Lindsay Sloane. Her character is a quieter, more subtle type of crazy, but Sloane doesn't get enough time to showcase her character.
Tommy, though, is still furthering his growth as a character. Tommy started off too over-the-top and has found a perfect balance between being Ben's best friend and fanatical lover of Kate. All the characters have grown so much already, but Tommy has the potential to steal the spotlight from scene-stealer BJ as the show's stand-out character.
The emergency scenario gets somewhat left behind in the episode, as the arrivals of Buddy and Louise take up more of the attention until the group realizes they can't find Maddie. When she's found hiding in the attic, Kate tries to get Maddie to jump, and she says that when you're surrounded by people you love, sometimes you have to make a leap and hope for the best, no matter how scary it may be. It's basically Ben and Kate's version of a trust fall.
It's not a moment that ruins an otherwise fine episode; it just seems to go over the line into sappiness just a bit. I'm actually more surprised the show hasn't had this problem before. But this short moment in the show isn't a dealbreaker, just an unfortunate step too far.
Others Tagged With