Boardwalk Empire Review: "Ging Gang Goolie" (Episode 3.06)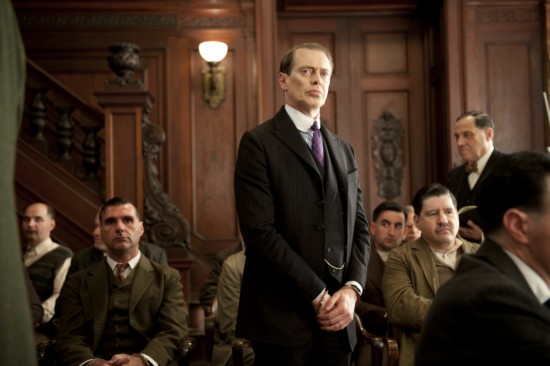 At the end of this week's episode all the scary suspense dissipated into a different kind when Margaret discovered that "the intruder" was actually Mr. Slater. I never thought the term "shipper" would apply to this show, but I'll go ahead and say it: Margaret and Owen fans rejoice! After 10 long episodes (yes, I've been counting) they finally reunite! Sex on this show is rarely, well, sexy. In fact it usually borders on disturbing or plain uncomfortable to watch. And maybe it's just that no one can look back in a moonlit greenhouse, but these two have chemistry.
Margaret seems to have made the decision that she and Nucky need to separate, telling him earlier in the episode that they need to have "a conversation," which he clearly doesn't want to have. As we saw in DC, things are complicated for Mr. Thompson at the moment. The Attorney General wants to indict him, and the last thing he wants to deal with is his decrepit marriage. He's too busy trying to recruit Esther Randolph over 20-cent breakfast to help him take down her boss and making deals with the smarmy Means, who agrees to set Nucky up with the solution to his problems for a mere $40,000.
In addition to Ms. Randolph, we were also happy to welcome the return of Harrow, who I'm pretty sure had a "meet cute" with Julia, the daughter of one of the more "rambunctious" men in his veteran club. Angela and Jimmy sparked something in Harrow, something akin to a deep platonic love, and it seems that he's ready for human connection again—perhaps with Julia or his sister, who we see him reminiscing with in a later scene over old photos.
While this episode brought up some fun new romantic developments, it also focused on perhaps the darkest relationship dynamic of this series: mother and son. We saw Gillian try to fill the void of Jimmy by sleeping with his doppelganger, who she re-christens "James" (because "he was a king") after they have sex. My first instinct was to read this scene as further indication of her unhealthy obsession with her son, and then it of course occurred to me that this is Gillian-in-financial-crisis we're talking about, and that surely this is the groundwork for a scheme. Whatever her intentions are, I can't help but feel bad for this Roger from Evansville, Ind.
Meanwhile, Margaret also struggled with mixed feelings toward her own son, who she believed set the fire in the greenhouse. Later on Owen reveals that a vagrant did in fact start the fire, and she looks visibly torn up over punishing her son (by spanking) for a crime he didn't commit. Unlike Gillian, Margaret's intentions with her children have always seemed pure. She tries to be a good mother, and beats herself up when she believes she's failed, once even blaming her daughter's polio on her infidelity. Which is why I'm hoping the knife under Teddy's pillow doesn't become something more. The kid's already a pyro. If Margaret discovers his knife, and even worse, it ends up in the wrong person, it will wreck her.
It's hard not to dread the worst possible outcome with Teddy's night; the scene in which he revealed its purpose to his little sister felt eerily foreboding, especially in conjunction with the absence of Gyp this entire episode. Who would have thought that not having that man around would be just as stressful?
Between all the "shapeshifter" drama last night, Gyp's big scene last week, and the psychologically warped "Bone for Tuna," there have been many moments this season I've felt like I was in the middle of a legitimate thriller. Well done, Boardwalk. It's almost Halloween, and I'm spooked!
Stray observations:
-I gotta say, I love Boardwalk's subtle comedic moments. From last night, see: Remus, still talking in the third person, and Nucky's "Can I get change for a hundred?" when paying his $5 fine in court.
-"Dreams are where we should live, but we have to live in life." Sorry Gillian, but that's just a weird thing to say to a random boy on the boardwalk. S'pose it worked though.
-To reiterate, Esther Randolph is back, dropping literary barbs with ease over a 5 a.m. breakfast with Nucky. I like where this is going.
-When Mickey popped up ever-so-briefly my roommate asked, unironically, "Wait, he's still alive?" Yep, somehow, no one has whacked that guy yet.
-Will Billie go to Hollywood and get out of all of this unscathed?
-And most importantly, what is Owen and Margaret's "shipper" title?
Others Tagged With