Brian Wilson Responds to Beach Boys "Firing" Rumors
"It sort of feels like we're being fired."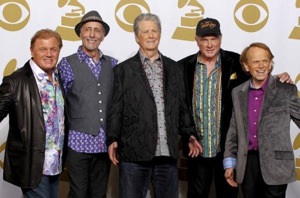 After a confusing press release from Mike Love—the one that had fans up in arms over "firing" original Beach Boys Brian Wilson, Al Jardine and David Marks —and an attempt from Love to set the record straight, The Beach Boys' drama continues. Today, Brian Wilson took to the LA Times to share his side of what's going on with The Beach Boys.
"As far as I know I can't be fired—that wouldn't be cool," Wilson said. "The negativity surrounding all the comments bummed me out. What's confusing is that by Mike not wanting or letting Al, David and me tour with the band, it sort of feels like we're being fired."
Most importantly, Wilson describes how he (and Jardine and Marks) found out about their lack of involvement in upcoming Beach Boys shows. It started after Love booked post-50th anniversary shows, which didn't include the original members on the roster. Wilson said after some promotional images were being used that featured a reunited lineup, it was suggested by Wilson's attorney that a press release be issued to avoid confusion for fans buying tickets to the show.
"That's why I was completely blindsided by his press release," Wilson said. "I had no idea that it was coming out, since it was crafted by Mike's personal PR firm without my knowledge or approval. No one in my camp would have approved it or the timing.
"I'm disappointed that Mike would now say that the release was done at the request of my representative. The first I heard about it was at the Grammy Museum event. We hadn't even discussed as a band what we were going to do with all the offers that were coming in for more 50th shows."
What's notable on Wilson's end is his eagerness to return to the stage, something he's notoriously avoided in the past.
"While I appreciate the nice cool things Mike said about me in his letter, and I do and always will love him as my cousin and bandmate, at the same time I'm still left wondering why he doesn't want to continue this great trip we're on. Al and I want to keep going because we believe we owe it to the music."
You can read Wilson's full statement over at the LA Times, which Wilson does actually end on a happy note:
"In any case happy anniversary, I loved it and I think we knocked it out of the park for what it's worth. "
Got news tips for Paste? Email news@pastemagazine.com.
Others Tagged With