Brooklyn Pour Craft Beer Festival's Geeky Goodness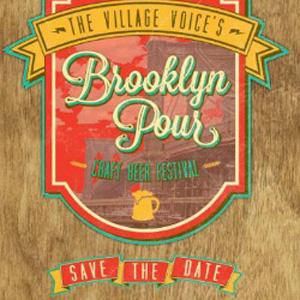 On a recent Saturday afternoon in Brooklyn's Fort Greene neighborhood, a line stretched around the corner outside the former Williamsburg Savings Bank, now known as Skylight One Hanson. The beautiful old bank vault, located just a few blocks away from the brand-new Barclay's Center (home of the Brooklyn Nets), was buzzing with beer nerds. They were there for the Village Voice's Brooklyn Pour Craft Beer Festival, an event for brewers and drinkers to taste and discuss all things suds in the midst of one of the epicenters of the craft brewing movement.
There's something incredibly geeky about both purveyors and connoisseurs of craft beer and microbrew. You can see it in their unbridled and sometimes arrogant enthusiasm for obscure details and distinct formulas that rival the most specific insider knowledge of dedicated potheads and comic book fanboys. But this enthusiasm—real, unadulterated, and ebullient—results in some of the most interesting and complex beer being brewed today, from New York to Colorado to Portland, Ore.
Outside, the line finally began to move, as beer fans anxiously inched closer, ready to put their $65 entrance fee to use and begin three hours of tasting. Once inside, an exercise in patience and pacing began, as over 100 breweries had set up shop with information and tasting tables, contests, and demonstrations. A throng of hopheads, average Joes, opinionated beer nerds and stylish alcoholics milled about, some wearing pretzel necklaces to help temper the onslaught of suds to come. For a writer, this kind of event can be difficult to cover, as one must maintain a balance between observation, inquiry, and, well, relative sobriety. Fortunately, the beer reps were, for the most part, helpful and game to geek out about just what made their particular beer so awesome, and the attendees handled their increasing inebriation with smiles and a generally friendly buzz. If tasting 20 or 30 beers was required to get the story, this writer was willing to sacrifice himself.
The beer selection at Brooklyn Pour was quite impressive, focusing mostly on beer brewed in New York State and the Northeast, with a few foreign beers thrown in for good measure. The usual and most popular Brooklyn suspects were of course represented—Sixpoint, Brooklyn Brewery, Kelso. But some younger NYC upstarts made their presence known as well with bold flavors and innovative styles. Bronx Brewery, just over a year old, was offering a Rye Pale Ale in addition to its signature Bronx Pale Ale to sample. Currently the beer is only available in the Bronx (natch), Manhattan and Westchester County, but they plan on expanding their distribution in the future.
The brewery ages its beer in whiskey and wine barrels to impart some extra flavor, and you can definitely taste it, especially in the Rye Pale Ale. Harlem Brewing Company may not be so new—the brewery began 11 years ago—but its "Sugar Hill Golden Ale" is not as widely known as it deserves to be. The owner, Celeste Beatty, was jovial and happy to talk when I caught up with her (she had already begun sampling, which certainly helped the conversation). She was inspired to brew by cooking with beer, and developed the "Sugar Hill Golden Ale" as a clean, easy to drink brew that you use in recipes as well as drink. Light on the hops, the beer was refreshing and tasty, a perfect starter before delving into more intense and aggressively bitter brews.
The international beers represented at Brooklyn Pour could give any of the American beers a run for their money. Innis & Gunn brews its beer with a single malt mentality. The Scottish brewery had its "Original" and "Spiced Rum Finish" beers available for sampling, but they also craft "Blonde" and "Irish Cask" varieties, among others. The story of the beer is that it came about as something of an accident, when a distillery wanted to create an ale-finished whiskey and discovered how good the beer was that was being used to flavor the casks. Also from England, Old Speckled Hen's "blonde cousin," "Old Golden Hen," was available to taste. The beer has only been available in the U.S. for a few months, and it is almost summery compared to "Old Speckled Hen's" heavier malt flavor profile. Germany's Radeberger and Weihenstephan were represented, as well as some Asian brews—Singha and Asahi. These, however, did not seem to be quite as popular with the crowd, perhaps due to their ubiquitous presence at almost every Thai or Japanese restaurant and their limited cache in the craft beer world.
Speaking of limited cache, Samuel Adams, Boston's most famous lager, took on the role of the obnoxious, fratty, older brother to all its hipper, more refined craft brew siblings. They offered Bavarian-style hats and hosted a beer stein holding competition for the crowd. When I approached the Sam Adams senior account manager to ask him a few questions, he was defensive and reluctant to talk, asking me if I was writing a press release. I asked him how the company remains relevant among all these specialty microbrews, and he replied that they "stick to our values, making the best beer in America, we believe." Sounds like a damn good formula, but I'm not sure if those in attendance would agree. At least he was knowledgeable about the beer he was repping. After tasting Butternuts' Moo Thunder Stout, a nice, semi-sweet dark beer, I asked the rep if he could talk for a bit. He replied that he didn't know much about the beer, other than the Porkslap Pale Ale they brew was named after the founder drunkenly tried to direct a cab towards the Park Slope neighborhood in Brooklyn—actually a much more interesting story than hearing about their particular hops blend.
There were some novelty acts as well. Whole Foods set up a pairing table where they combined "Ommegang Rare Vos" with cold brew coffee (nice, especially with some chocolate wafers), and Heartland Brewery offered an autumnal pumpkin ale (kind of the pumpkin spice latte of beers). There were also some demonstrations and talks, including "Beer-B-Q: Cookin' with Jimmy Carbone" and a homebrew tutorial from Brooklyn Brew Shop. But Brooklyn Pour was really all about the beer—tasting it, talking about it, showing off how much you know about it, finding out more about it and trying to get drunk by drinking as many 2 oz samples of it as possible.
Others Tagged With