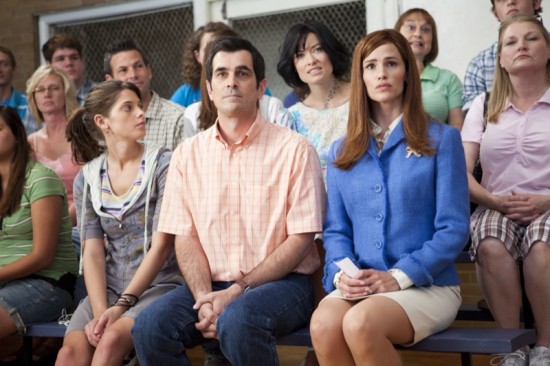 A movie concerned with the seemingly ridiculous world of butter carving may not sound like a smart, tear-jerking, must-watch political satire. Yet Jim Field Smith's sophomore effort Butter is all of the above and more. Viewers will be as unsuspecting as one of the film's lead characters, a sweet little girl who enters the Iowa butter carving competition unaware of the cutthroat, sex-crazed world that awaits. Smith offers a tongue-in-cheek interpretation of this beyond-bizarre environment, making Butter a terrific parody, as heartfelt as it is hilarious.
When Butter opens, Jennifer Garner is speaking eloquently and forcefully—indeed, as if she were a political figure running for office—about her rise to fame as Laura Pickler, wife of Bob Pickler (played by Ty Burrell) who is nearing the end of his illustrious career in butter carving. Local celebrities in their own right, Bob and Laura (naturally) have a few skeletons in the closet, the biggest being Olivia Wilde's character, Brooke. Wilde perfectly and preposterously plays a vulgar, unapologetic stripper/hooker who seeks revenge on the couple when Bob refuses to pay her for his last … experience. The results are often hilarious; Wilde's character is pitted against the politically correct (often to a fault) nature of Garner's character (although Mrs. Pickler has her own skeletons, namely in the way of a hunky car dealership owner played by Hugh Jackman).
Newcomer Yara Shahidi plays Destiny, in a role slightly reminiscent of Abigail Breslin's in the 2006 hit Little Miss Sunshine. However, her story is somewhat complicated, as a foster child who has recently come to terms with "the truth" about the world as she knows it: "white people are wierdos." Alicia Silverstone and Rob Corrdry shake up her theory as the loving [white] folks who adopt her and encourage this strange talent she has for carving butter.
The plot of the film thickens when Laura enters the butter-carving competition in hopes of stepping out of her husband's shadow and finds herself up against Destiny, stripper Brooke, and Carol-Ann (played hilariously by Kristen Schaal). However, because the competition is presented as semi-political in its goings-on, she also must work (and cheat) at convincing the judges to vote for her (the privileged stay-at-home-type mother) over Destiny, the charming result of a less-than-conventional upbringing.
On the whole, the cast of Butter delivers strong performances, including young Shahidi who shines on screen, even if—at times—she is a bit too clever to exude complete authenticity as a little girl. (In this, the character of Destiny deviates from Breslin's former role as Olive.) However, in a comedy abundant in exaggeration (like Bob's butter carvings, which replicate Da Vinci's The Last Supper and scenes from Schindler's List), each character has a tendency to lean towards caricature. As a result, Butter sometimes misses the mark, playing more like a good skit than a good movie.
Butter succeeds as a small film with a simple, patriotic (albeit tongue-in-cheek) premise: Americans love butter. However, Jim Field Smith also knows that his audience loves an off-color, slightly vulgar comedy with a villainous Jennifer Garner, a countrified Hugh Jackman, and an overly skanky Olivia Wilde. With such an understanding of American culture, politics, and potty humor, Smith delivers a little indie film with a big heart and big laughs.
Director: Jim Field Smith
Writer: Jason A. Micallef
Starring: Jennifer Garner, Yara Shahidi, Ty Burrell
Release Date: Oct. 5, 2012
Others Tagged With