Cee Lo Green: Cee Lo's Magic Moment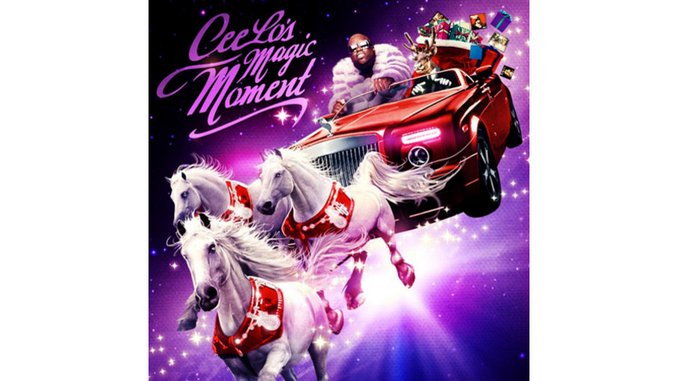 If you release a Christmas album in 2012 (and you're not Michael Bublé), you're either a merry prankster (Sufjan Stevens) or you're being held at gunpoint by your record label. You're also probably an idiot. But for Cee Lo Green, America's most adorable and unpredictable soul chameleon, a Christmas album not only makes perfect sense—but it also has potential to be pretty freaking great.
Smiling, petting random cats, and generally being his incredibly weird self as a judge on NBC's The Voice, Green's profile has never been bigger. So the timing here is impeccable: America loves this round, loud freak-bomb of charisma. Green already dominates pop radio and television—why not let him take a shot at the Yuletide?
Magic Moment is probably the greatest collection of holiday songs since Dean Martin's prime—not much of a compliment considering the dismal competition, but an achievement nonetheless. Weirdly enough, this might be Green's most immediately satisfying album as a pure soul singer; throughout, he explores the huskiest confines of his lower and middle register, instead of relying on his typical nasal fireworks. And production-wise, Magic Moment is layered and fireside-warm: mostly eschewing Christmas-cookie-cutter blandness, flaunting plenty of deft basslines, Wurlitzer textures and sprawling percussion.
Leave it to Green to get ambitious on a holiday album. On a tender, subtle rendition of "Mary, Did You Know?," he somehow wrangles a bit more emotion on the season's most over-covered classic—when he skyrockets to his highest range during the chorus, the effect is spine-tingling. Elsewhere, Green adds soulful improvisations to a campy and generally fantastic take on "Silent Night," built on hovering strings, corny backing vocal choirs and massive timpani ripped straight from the Tarzan soundtrack.
Outsiders are instantly out-charmed on a slew of well-intended collaborations: There's only room for one on Cee Lo's sleigh. Christina Aguilera manages to—surprise, surprise—over-sing on Green's bluesy take on "Baby, It's Cold Outside," while the Muppets-assisted "All I Need is Love" (Talk about a pitch-perfect collaboration, at least on paper) is cartoonish to the point of absurdity.
On the other hand, Green's style meshes perfectly with raspy elder statesman Rod Stewart—together, this unlikely duo tag-teams "Merry Christmas Baby" with palpable gusto, trading off lines of the same verse, harmonizing effortlessly over sassy backing vocals, wah-wah and half-sighed brass. Unlike most of Magic Moment, it's a bit over-polished—the kinda thing you'd hear while browsing the underwear racks at your local JC Penney. But on the whole, holiday cheer rarely sounds this spirited.
Others Tagged With