Elliott Smith's Death Honored By Renovation of Figure 8 Mural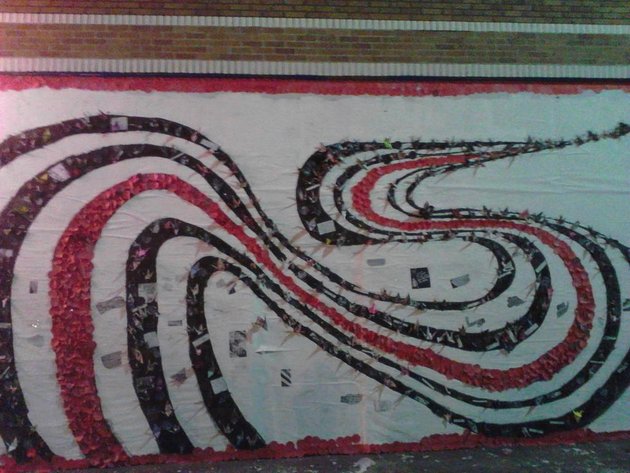 Yesterday marked the ninth anniversary of the death of Elliott Smith. To honor the late singer/songwriter's memory, a group called Punk Rock Marthas renovated the mural that was featured on the cover of Smith's last recorded album, Figure 8.
The mural is painted on the side of a shop called Solutions Audio Video Repair on Sunset Boulevard in Los Angeles. The mural became a place where fans could pay their respects to the late singer, but as the years past it turned from a place of respect to just another street mural damaged by graffiti. Punk Rock Marthas decided to revamp the Los Angeles mural and bring it back to its former glory.
The group repainted the black, red and white swirls in addition to adding some personal touches from fans. The red lines have paper flowers that have Smith's lyrics on them. The black lines work as a map depicting all the former residences of Smith and also have paper cranes scattered across them. Finally, the white lines have been reserved for messages from fans.
Punk Rock Marthas held a special memorial tribute and benefit at the site raising money for Free Arts for Abused Children, which is a beneficiary to Smith's estate. Smith died in 2003, and now a new documentary is being made to document his legacy. The documentary, which is called Heaven Adores You, is being directed by Nickolas Rossi. It follows the 2009 documentary Searching for Elliott Smith. To learn more about the documentary, check out it's Kickstarter.
Punk Rock Marthas tweeted a picture of the finished mural.
(via NME)
Got news tips for Paste? Email news@pastemagazine.com.
Others Tagged With