Faulkner Estate Suing Sony Pictures Classics over Midnight In Paris Quote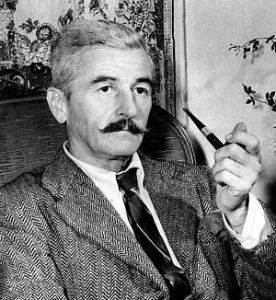 Though Woody Allen's Midnight In Paris was a huge critical success, not all are pleased by the film's use of famous literary quotations. According to Faulkner Literary Rights, the rights-holders to William Faulkner's work, the filmmaker had no right to use a quote from the author's book Requiem For A Nun. The group is filing a suit citing copyright infringement, commercial appropriation and violation of the Lanham Act.
"Sony's actions in distributing the infringing film were malicious, fraudulent, deliberate and/or willful," states the report. "Sony did not have Faulkner's consent to appropriate William Faulkner's name or his works for Sony's advantage."
In the film, Gil Pender (a frustrated screenwriter played by Owen Wilson), states, "the past is not dead. Actually it's not even past. You know who said that? Faulkner. And he was right. And I met him too. I ran into him at a dinner party." This paraphrasing of Faulkner's writing is the cause of the suit.
Midnight In Paris is Allen's highest-grossing film ever. The movie brought in $148.4 million worldwide. William Faulkner passed away in 1962.
You can read the full suit here. (via Deadline)
Got news tips for Paste? Email news@pastemagazine.com.
Others Tagged With