G.O.O.D. Music: Cruel Summer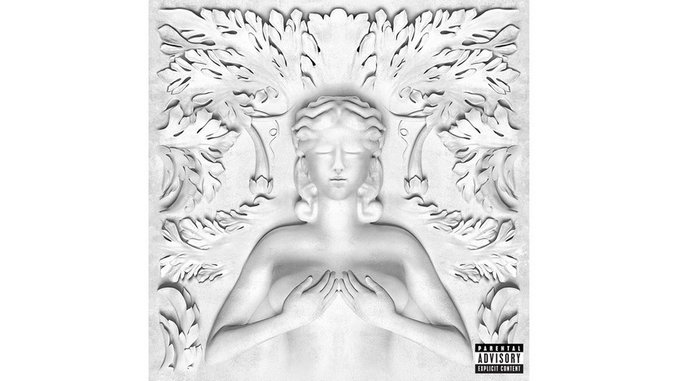 Last year, Kanye West and Jay-Z's aristocratic team-up Watch the Throne climaxed with "Made in America," the loudest song on an album painted in loud streaks of neon. Relevant tie-in: The Sopranos' series finale was called "Made in America." Throwing away six seasons of finely wrought Catholic guilt, the HBO ratings cow went on a decadent tailspin from which there was no clean exit. G.O.O.D. Music comp Cruel Summer, like Watch the Throne before it, travels the war path first beaten by Don Antonio.
From there, the analogy doesn't quite stick. The Sopranos was a goon's domain, outlaw country pitched in plain sight, whereas the phrase "Kanye West is a goon" rolls pretty uneasily off the tongue. West's first three teddybear-themed albums were unbeatable in their showmanship and melodic strength, but his real ace in the hole was that pinchable pair of cheeks (to say nothing of a wooly, harmless wardrobe). While not PC, exactly, West was the cuddliest "serious rapper" in a generation. To him, hip-hop was the thinking and churchgoing man's game.
Cruel Summer suggests that Kanye doesn't want to be Kanye, at least not the old, smiley incarnation with an adoring gaze and props from Gretchen Wilson fans. The College Dropout's peach-fuzzy calls to optimism are so far behind him that West must wince when fans recite his lyric about a "Boost for breakfast/Ensure for dessert," assuming anyone can remember far enough past the Twitter age to quote 2003's "Through the Wire."
What Cruel Summer is is a study in making minutia count, with West's most casual asides allotting the clearest windows into his life's purgatorial decadence. The Kanye that covered Paste five years ago would've been too concerned about his age-appropriate brand to go on record with his love of poppers, as he does here (peep the filthy samba romp "Mercy"). But West crawls into darker and darker spaces each year, and Cruel Summer is his most violent plunge yet, its default delivery a slurry ice grill that leaves every consonant sounding fouler than the last. With a Grey Poupon stain on his shirt, West would be a convincing stand-in for Rick Ross.
The scenery here is dank and unlit, the mood glacially impersonal, the content post-truth: "I might kill somebody and YouTube it" is the talk of a bottle-serviced Walter White. West spurns the comforts he once held dear—My Beautiful Dark Twisted Fantasy's conflicted Jesus talk was a Heritage USA brochure compared to Cruel Summer's thoughts on that subject—and enjoys, almost literally, nothing except poolside fellatio. His production suggests privation: dubstep drops, frostbitten clicks, beats welded into riot gear. The synth avalanche "Clique" has enough block-beating rev to rattle a hermetically sealed enclave.
The sense of something at stake appears lost on West's crew, the ranks of which include surrogate uncle Jay-Z, sulky psychonaut Kid Cudi and zone-out artist Big Sean. Jay, who always sounds like he'd much rather be tending the greens in Palm Springs, appears twice in an empty suit. West's lieutenant, the rambling Pusha T., is in love enough with his voice (one of hip-hop's least pleasant) that he'd make a better slam poet than in-house slam poet Malik Yusef; Pusha would cut a half-hour verse about tax excises if the boss permitted. And here's a stump question: what was the logic behind Cyhi Da Prynce's hiring?
West has always kept too many cooks in the kitchen, with My Beautiful Dark Twisted Fantasy logging some two dozen outside cameos. But MBDTF chewed like soul food; Cruel Summer goes down as appetizingly as Drano. By the same token, this is a team effort to whatever degree that it succeeds. Wu-Tang lifer Ghostface Killah spills his insides over the snap, crack and pop of "New God Flow." Better still, "The Morning" brings out the 27-year-old in Hollywood part-timer/virtual retiree Common. The-Dream, today's closer answer to Roger Troutman, kills with his owlish creeper routine on "Higher." The sounds percolating through "Cold" (formerly "Way Too Cold") would escape a gangbang where Silkk the Shocker, Purity Ring and Tindersticks cross groins, but the track belongs to DJ Khaled.
Cruel Summer's many, many insourced recruits are so disparate that the only constant is kaleidoscopic shifts in momentum. A martial slow builder like "To the World" might seg into dubby syncopated chatter. From John Legend's piano pop might come a sudden dabble in juke or boogie or Italo disco. The initiated still won't have much trouble pegging Cruel Summer as a Kanye creation, since even the underthought, overripe tracks tuck lots of small surprises in their corners. There's no way a fucking Ma$e (Ma$e!) verse would've have flown if West had had to answer to anyone but himself, but the '90s rap villain nearly steals the album. "Higher," the Ma$e track in question, works even though it shouldn't, a West trademark.
But Cruel Summer underachieves most acutely because of an unutterable truth dogging every frame: Yeezy cannot rap anymore. His post-surgical mumblings were a stroke of oratory magic next to "Mercy," which West treats as a contest to shout down the mic. He borrows "hilarious" vocal tics from people he helped create a market for (Lil B, Nicki Minaj, G.O.O.D. signee 2 Chainz), otherwise decaying into the kind of materialist cartoon he once mocked. Years ago when West rhymed, "My car's like the movie, my car's like the crib/I got more TVs in here than where I live," he meant it satirically. Now he'd rap that in earnest.
Still an inspired closer, West likes for his proceedings to conclude in open-ended discomfort—808s & Heartbreak had "Pinocchio Story," My Beautiful Dark Twisted Fantasy had "Who Will Survive in America"—but Cruel Summer's ripshit final minutes are more upfront, recruiting shirtless gangsta-rap sensation Chief Keef for "I Don't Like." A playground taunt chanted in gutbucket Southernisms, "I Don't Like" is indicative of the Cruel Summer West wanted to make. Too bad it takes him 12 tracks to get there. The dadaist fireworks pop too late to save this rough, tired, graying beast of an album.
Others Tagged With