Rockin' A Hard Place: Flats, Sharps & Other Notes from a Misfit Music Club Owner by John Jeter
The nightmare of the music-venue daydream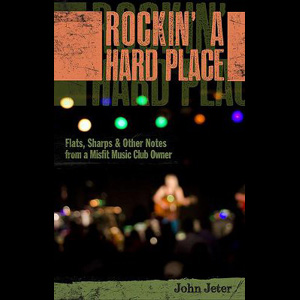 In terms of perceived "sexiness" among entertainment industry occupations, owning and running a top-flight roots-music club ranks probably somewhere between documentary-film producer and playing bass in Wilco.
John Jeter's memoir completely shatters this perception.
Yes, Jeter's 500-person capacity Greenville, S.C., venue, The Handlebar, regularly hosts artists such as Drive-By Truckers, North Mississippi Allstars and Todd Snider, but the venture has buried Jeter underneath mountainous debt and bad luck. It started day one. Shortly after The Handlebar opened in an old, abandoned textile mill, someone broke into the atmospheric venue and stole the $6,000 soundboard, without which the club could not put on a show.
The hits keep coming. Jeter got sued for $40,000 by ASCAP and BMI for not paying royalties on three measly cover songs played at his venue. He's persecuted by decibel level-obsessed neighbors, ripped off by agents, and plagued by artists' ridiculous tour rider requirements, antiquated permit laws, post 9/11 artist cancellations, and an IRS audit. His right hip disintegrates. There's a nervous breakdown.
For all his pain and ardor, Jeter enjoys some amazing moments. He shares a poignant loading-dock moment with blues-harmonica ace Junior Wells, hosts spellbinding shows by some of his favorite artists (Joan Baez, Gillian Welch, David Rawlings and Nils Lofgren, for starters), and bonds in this journey with his level-headed and hard-working wife, Kathy.
"Yes, we still lived with more debt than cash, sort of like the government," writes Jeter. "And while most everyone agrees that money doesn't buy happiness, it does buy memories. Lots of them. We collected and stored them up like so much cordwood to keep us warm whenever the big cold world got that much colder.
As it always has been and always would be, the music endured."
Jeter opened The Handlebar with his brother, Stephen, whose previous donation of a kidney saved Jeter's life. (The club got its name from the handlebar mustache Jeter grew when he and Stephen had a facial hair-growing contest as they recovered in the hospital from the kidney transplant.)
Live music, particularly folk music, completely entranced the two brothers, so when Jeter, a journalist, burned out on the newspaper game, his brother showed him the funky mill space. The 20-foot vaulted ceiling appeared perfectly suited to the Jeters' concept of a "listening room," with the focus on artists instead of a TV and appetizer menu.
Jeter jumped at the chance, writing, "The room felt like a cathedral."
It soon felt like an automotive showroom; the mill soon changed hands from a genteel Southern doctor to a shady long-haired nightclub magnate, and The Handlebar eventually relocated to a former Oldsmobile dealership in Greenville's blossoming North Main area.
The Handlebar's arc covers a fascinating segment of popular music history, beginning in the mid-90s boom years and reaching up to today's 21st-century digital quagmire.
When Jeter first began buying talent as The Handlebar's promoter, he spent most of his hours at the venue, calling acts on a landline atop an old metal desk, and faxing offer contracts. By the end of Rockin' a Hard Place, he rarely visits the venue, filing The Handlebar's calendar remotely using his laptop and cellphone. It's an interesting analog to the deconstructions of the music business's retail component; fans that once frequented the local record store to purchase new music now do so with a few clicks on iTunes. Even so, Jeter never gets disconnected from his love of art. In fact, giving talented, organic musicians a vibrant place to perform – and music fans a cool place to hear that music – reaches a level of art for Jeter.
Jeter's journalism background shows through in colorful, concise descriptions of music and music business as well as the book's economy (182 pages), pacing and structure.
"The persistence of live music," he writes, "speaks more to the tenacity of the art and the fans who keep it going, less to the transitory buyers and brokers who wedge themselves between performer and patron. In a perfect world, Commerce steps aside so that Art has room to do what it's supposed to do: entertain, educate and inspire. Those on the business side of things could do a better job of getting out of the way. Yes, bills must be paid, obligations met, debt incurred. But a cruel and shallow trench shouldn't have to be a grave."
Jeter feels generous, good-hearted. To his credit, he changes the name of an artist, agent, or whoever else he describes in an unflattering story. Rockin' a Hard Place also feels damn-near devoid of flash debauchery, unless you count getting tanked on pricey wine with Leon Redbone. Still, to be honest, salacious details make music-related memoirs more fun. A little more of that juice in Rockin' a Hard Place would spice the read and still not subtract from Jeter's frank, unglamorous portrayal of the music venue biz.
The marketplace, of course, brims over with tales written by small-business role models, advisors, consultants, and the like. But in the isolated and insulated world of talent-buying, a knowledgeable, sympathetic mentor seems about as easy to find as a priest at a Hell's Angels rally.
It takes a true music-industry insider to understand and convey the ins-and-outs of contract negotiations and filling a calendar; the esoteric mechanics of a process that operates with 'rules' one day and different protocols for other players the next; and what 'relationships' really mean in an industry that too-often seems to just give them lip service.
Jeter becomes refreshingly self-effacing when it comes to his mistakes at the venue. He can be too much a fan and not enough businessman, for instance, offering favorite artists swollen guarantees. He lacks the ability to be warm and fuzzy with the public. He even dragged his wife out of her own journalism career, for gosh sakes, and into the The Handlebar's copilot seat.
A single point of view can be an inherent weakness for a memoir. Here, Jeter spends a significant amount of ink detailing how unprofitable running The Handlebar can be. But let's be honest – roots-music isn't exactly known for putting Ferraris in driveways, is it? When Jeter calls an agent after an artist's soft ticket sales leave him in financial peril, he acts surprised when he gets zero sympathy. It sucks, but doesn't caveat emptor apply just as fully in booking some violinist from the "Cold Mountain" soundtrack as when purchasing a previously owned Camry?
Any music freak who makes it past the daydream stage of wanting to open a venue would be wise to read Rockin' a Hard Place before actually taking out a loan and a lease. You might avoid running through the same thorns as Jeter. And music fans who adore artists who turn their body and soul into transcendent live performances will gain with this book a greater appreciation for the scrappy venue owner who gives his own body and soul to provide a stage for that transcendence to take place.
Matt Wake is a journalist living in Huntsville, Ala., where he works as the entertainment reporter for The Huntsville Times and al.com.
Others Tagged With