Luke Lalonde: Rhythmnals
[Paper Bag Records]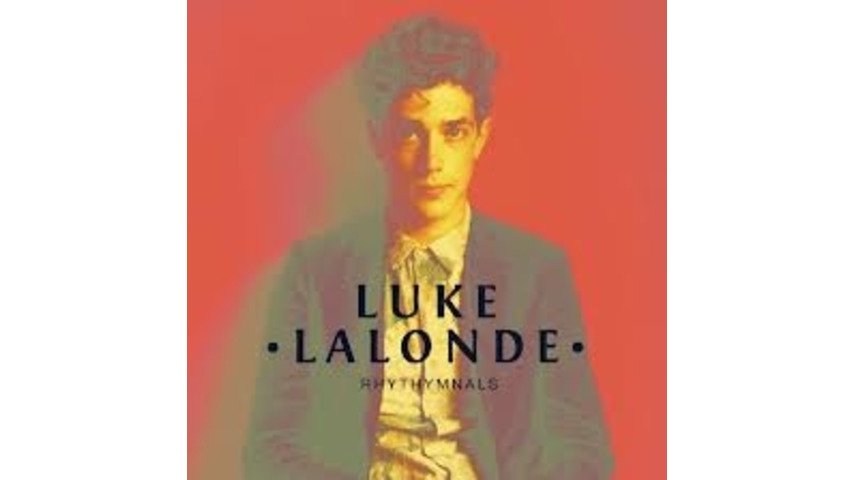 I have a long casual relationship with Born Ruffians. A good friend in college have a gooey soft spot for the band, spinning Red, Yellow & Blue frequently during our sandy afternoons breezing through her Neptune Beach apartment. Fresh into my internship with Paste two years ago, The Ruffians dropped by the office for a video recording, quickie interview and general chummery. Then just two weeks ago I caught them in the Lower East Side on complete accident while searching for a friend amidst the CMJ madness.
During the last two run-ins, I noticed something about band leader Luke Lalonde. Sure, he handles most of the group's vocal duties and seems to always stand front and center during performances—but he's not an overtly animated dude. Most the Born Ruffians' live charisma bursts from Mitch Derosier. Lalonde plays enthusiastically but keeps his reserves sealed tightly.
For as personal as the man gets with his lyrics, it's a wonder he tucks away into such a private place when under a light on display.
Lalonde's debut solo album, Rhythymnals, ties helium balloons to his pop, lifting it to a remarkably effervescent melancholia.
He mostly laments about relationships on the record. It deals with a second party's fear of commitment, save a few cuts. Lalonde wrote and recorded Rhythymnals during a good hunk of time—early 2010 to spring 2012—so it does deviate from a strict, color-by-numbers theme, but not often or by a whole lot.
"Shove Off" manipulates saccharine silhouettes from the golden beginnings of a relationship. It's venomous nostalgia—a last attempt to make uncomfortable compromises to preserve a woodrotting foundation. Lalonde's voice forces feigned cheer when it begs, "And if you want me to shove off / I'm gonna shove off … I shouldn't have to tell you / Shouldn't have to tell me / Shouldn't have to tell you / Shouldn't have to tell me." Just before this cut "Undone" unfurls another list of relationship perks offered (my favorite: "You can call me Honeybun"). It is majorly revealing, not something you'd expect from the demure dude with the microphone.
Deterring from the romantic motif, "My Friend Archibald (R.I.P.)" takes a sharp and weird turn. It's about a depressed man who carefully slices up his own face as a way of dealing with his permanently boyish looks (why has no one clued this guy in to beards yet? Kidding). It's a hiccup. Although decent enough on its own, "Archibald" doesn't fit into Rhythymnals.
Weighing in at just 10 tracks deep, Lalonde leaves a lot to be determined about the worth of his creative juices. He shows he can craft a solid pop offering without a lot of major help from his high school buddies. Now we just have to find this quiet, softy dude a worthy girl who will call him Honeybun.
May I suggest, Luke, my already agreed pal Lindsay Hood? You know. Or whatever.
Others Tagged With