Nashville Review: "Someday You'll Call My Name" (Episode1.03)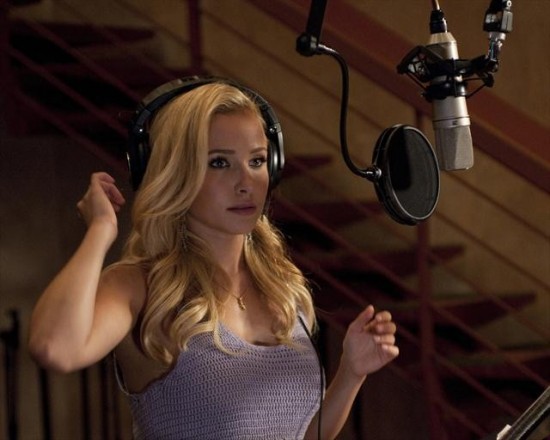 Still can't believe a primetime soap opera about country singers is one of the best series to debut this season? Three episodes in and Nashville continues to build on strong episodes to defy all logic. Maybe right now you're arguing that it's not the best, but think about what other shows have truly impressed you this season. Nashville is definitely cream of the crop.
"Someday You'll Call My Name" reveals a lot about Rayna and Juliette, mainly their relationships with their parents. Rayna's father has already been a driving force behind a major plot this season—pushing Teddy's political career. This week he decides to give Rayna and Teddy—who are struggling financially—a cool $500,000. It was also very intriguing to see the effect that Jolene, Juliette's drug-addicted mother, had on the young starlet's life.
The check Rayna receives comes will pages of stipulations, strapping her options of releasing albums and going on tour. Secrets about her mother's affair come out, but they're not enough for her to forgive her father, who disappeared and was never a present dad.
To add to the pressure, she is worried about her upcoming tour with Deacon. It will just be the two of them in smaller venues, and the country star is realizing she is beginning to fade into the twilight. It's a battle we'll see throughout the series, but it takes a backseat to the Juliette's character development.
Juliette reveals to Deacon that the song they're singing as a duet was partly inspired by her relationship with Jolene. This inspires Rayna's old flame and current bandmate to sleep with Juliette. He's one of the most likeable characters on the show and watching him struggle between touring with Rayna and Juliette is tough. He's genuinely a good person, but he has not made the best of decisions so far in the short history of the show.
While Juliette is fraught with guilt when she sends her mother away from her mansion, which leads the addict to steal food, Deacon finally comes around to say he can't tour with her and is choosing Rayna instead. It's the decision I wanted to see, but the choice to deliver it when the young singer was so fragile added complexity to the mix. Juliette begins to spiral out of control, which leads her to shoplift while getting filmed by three fans from a distance.
In between all of this are Scarlett and Gunnar, who are trying to break into the music world. Other than the show detailing two up-and-coming musicians, I'm not sure what the angle will be. Perhaps eventually their lives will cross paths with either Rayna or Juliette, but for now it seems a little disjointed from the rest of the plots.
Regardless, the show still provides a strong showing with a lot of heart. While Connie Britton wasn't on screen as much as she had been in the two first episodes, she continues to build an impressive bid towards an Emmy nomination nearly a year in advance. The show might also have a chance to break into the cable-dominated mix and is definitely one of the best network dramas around even after only three episodes.
Others Tagged With