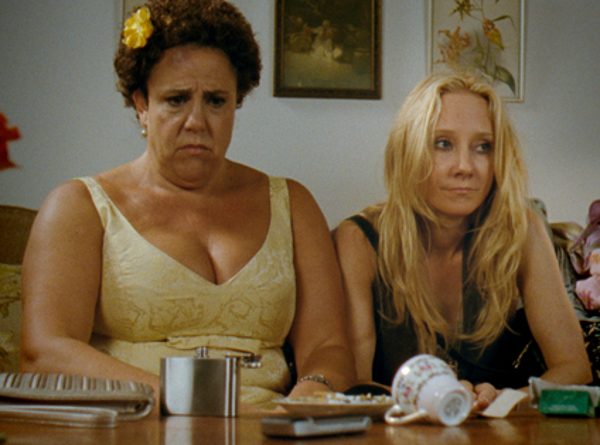 In what she calls a "wo-mance," an alternative—or maybe an antidote?—to the bromance, Carrie Preston (so delightful as an actress in shows like True Blood and The Good Wife) directs an unattractive portrait of single womanhood. Dee Dee (Anne Heche), Bebe (Marcia DeBonis) and Clementine (Alia Shawkat) are whiny, bitchy and grossly inappropriate, grotesque caricatures rather than women you'd actually want to be friends with. That seems to be the point, though: On your worst days, it's your girlfriends who still love you.
After a year-and-18-month dry spell, Bebe has a big date and has planned a day of pampering to get ready for it, starting with a self-administered bikini wax—er, shave (yikes!). Unfortunately, her hot mess of a best friend Dee Dee is so late that by the time she arrives to help out, Bebe has befriended Clementine, a hysterical nympho who just got dumped through the bathroom door after her boyfriend couldn't perform.
Reeling from crossing paths with her ex, Dee Dee is bitter, antagonistic and smoking again, behaving nastily toward Clementine and crapping all over Bebe's enthusiasm. Meanwhile, Bebe, sweet, kind and the most likable of the bunch, has developed acne and a yeast infection, both of which she scratches vigorously whenever the action isn't frenzied enough.
Adapted by Kellie Overbey from her play Girl Talk, which Preston also directed and DeBonis starred in, That's What She Said does move the action onto the streets of New York City and open up the setting by incorporating brief flashbacks to illustrate the dialogue. But otherwise it's a talky script that offers only the women's (unreliable) points-of-view, never showing what really happened on the other end of the drama.
This female-centricity, too, is probably the point in a film populated almost exclusively by women. (Even the cops are chicks.) It doesn't matter whether they are validated or learn some kind of moral lesson, however unsatisfying that might be for the viewer.
By the time the ladies wind up drowning their sorrows in an abandoned Asian-themed dive bar, all of Bebe's hair has been chopped off (the least of her problems), Clementine has been arrested for assault with a dildo, and a man has died. "Annoying" would be a nice way to describe them. But, in the end, they do have each other. And—all right, I'll go along with it—that's what counts.
Director: Carrie Preston
Writer: Kellie Overbey
Starring: Anne Heche, Marcia DeBonis, Alia Shawkat
Release Date: Oct. 19, 2012
Others Tagged With