The Producer's Chair: Ed Ackerson of BNLX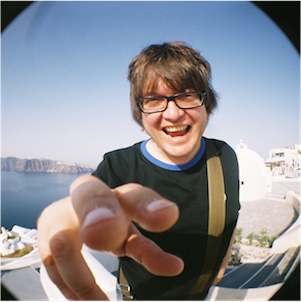 Welcome to a new column about new music—from a different perspective. As a producer, engineer and studio owner, I've been lucky enough to hear some great music before anyone else. I remember splicing up the masters for the first Pixies record and thinking, "This is really good…something might be happening here." People who spend their lives in the studio trying to record unforgettable music often have good tips about what to listen to…so we're going to ask them. Each of these columns will profile a dedicated music-maker and we'll find out what they've been doing lately that they're particularly proud of. Exciting new music is what we all want to listen to. I hope this column can make some connections and help deserving new artists get heard.
Our first guest is Minneapolis based artist and producer Ed Ackerson, who owns and operates Flowers studio in the Uptown area. Built in an old cold-storage flower warehouse, it features a unique greenhouse lounge that's been the scene of many a late-night hang. Ackerson's first band was the modish 27 Various, and he began engineering at Underground Studios working side-by-side with Zachary Vex, later of Z-Vex effects fame. Ackerson's next band, Polara, was signed to Interscope in the mid '90s and has released five full-length records and numerous EPs and singles full of smart, innovative and experimental rock music. His new band, with wife Ashley, is BNLX, and as we'll hear, they're busy. Through all this, he has engineered and produced loads of recordings by artists like the Jayhawks, Joseph Arthur, The Replacements and, most recently, the excellent new Motion City Soundtrack record GO!
Paul Q. Kolderie: So, What are you up to?
Ed Ackerson: I've been splitting my time between making records for people here at Flowers Studio and working on stuff for BNLX, the new band my wife Ashley and I have started. There's been a ton of cool projects through the studio lately. In the last couple of weeks, for instance, we've been working on new tracks with Motion City Soundtrack, The Jayhawks, and have also finished an album with Brooklyn indie rock band A Great Big Pile of Leaves. This week we're finishing mixes for the debut BNLX album.
Kolderie: That Brooklyn band sounds interesting…this is their second full length?
Ackerson: The AGBPOL record is indeed the band's second. I met the guys out in New York about a year ago through Jesse Johnson of Motion City Soundtrack. Jesse got all of us tickets to one of the Conan O'Brien Back to NYC shows at the Beacon, and we all had a pretty hilarious day hanging out together. I definitely knew that I wanted to work with the band because the guys are all really sharp and funny, and their music is the sort of melodic and dreamy indie-pop stuff I'm a sucker for. The guys come from a pop/punk background, but their sound reminds me at times of a combination of The Smiths, Luna, Promise Ring—upbeat, jangly but textural music.
Kolderie: How will they put it out? I'm always interested in innovative non-traditional methods.
Ackerson: I'm not sure who will ultimately put their record out, but they were talking to a bunch of labels even before we started recording. The band have built a really solid following already on a totally DIY basis, they're at a point where they sell out local NYC shows at the Knitting Factory, Mercury Lounge, etc. Other East Coast markets like Boston and Philly are coming along, too. So I think they're going to be all right regardless of who puts the record out. The band has a very old-school dedication and work ethic. They're not at all afraid to get out there and conquer.
Kolderie: Well, I must point out this is the new studio model in action. A band finances their own recording and then decides what to do with it. Better for art!
Kolderie: What about BNLX?
Ackerson: BNLX has been putting out a four-song EP every three months since the band started. There are seven regular EPs plus a special limited edition EP of Replacements covers that we did in conjunction with a tribute show we played at the end of last year. I really love the EP format: It makes it possible to put out material more frequently, it's quick to do and it allows us to evolve the band's sound every few months. We've released a lot of material so far, a total of 33 songs in about two years! And that total doesn't count the songs on this album we're finishing right now.
I guess that the EP concept was a reaction to the time I spent on major labels, where you'd have two-to-three years between album releases. There was no immediacy to the process; everything was discussed and vetted and mixed and remixed. I'd write 30 songs for an album but ultimately only see 10 or 12 come out. When an album was eventually released, the pressure was enormous. All of the efforts of the previous couple years would stand or fall based on the performance of the record in its first couple weeks of release. That major-label process is so anti-art, and it's exactly the wrong place for a prolific artist who has a lot of ideas and interests. It was super frustrating to have so many ideas but have so few "at bats"; in that world, things move very slowly and carefully.
With BNLX, I was determined to create an environment where we could generate new music continually. I see all of this as a sort of dialog with listeners. We have been putting out a steady stream of new music, getting feedback on what we're doing every few months instead of every few years. We've allowed ourselves to be less precious about what we release. We've put out some silly cover versions of songs, done some stuff that was pretty experimental and noisy, sorts of things that probably wouldn't have made it to a "proper" album release. The EP series has been fun, and we'll certainly do more in the future.
Despite all this, one question we've heard constantly is, "When are you guys gonna do an album?" It seems that people in general and industry people in particular still see the full-length album as a mark of legitimacy or permanence. Initially I resisted doing a full-length. But as our current crop of material came together, I started to have fun envisioning a longer sequence of tracks. BNLX to date has communicated in staccato bursts. It will be interesting to see how this more sustained piece is received. Since we're doing an album, we decided to go all-the-way archaic and do 180g vinyl. The packaging is gonna look really cool, and the mixes should sound huge and thunderous on vinyl.
Kolderie: Will you do CDs too or just downloads and vinyl?
Ackerson: We are doing CDs. We're also repackaging the original EP series into two CDs—one for the first four EPs, one for the second four. All of the EPs have been 100% handmade so far, but now we're selling too many to keep up with and it's particularly challenging with eight titles in the catalog!
Kolderie: What about touring?
Ackerson: We're planning on doing a short run of dates through the Midwest to the East Coast in late November after the album comes out. I've been so busy in the studio for the last bunch of months that we haven't been able to tour much. Looking forward to getting out there!
Paul Q. Kolderie was one of the founders of the legendary Fort Apache Studio during Boston's late '80s indie rock boom. He's produced, engineered and mixed platinum albums for Radiohead, Hole and The Mighty Mighty Bosstones, as well as influential and groundbreaking records from The Pixies, Uncle Tupelo, Morphine, Dinosaur Jr., Buffalo Tom, Portugal.the Man, Throwing Muses, and many more. He currently lives and works in upstate N.Y. with his wife Robin and their three dogs.
Others Tagged With