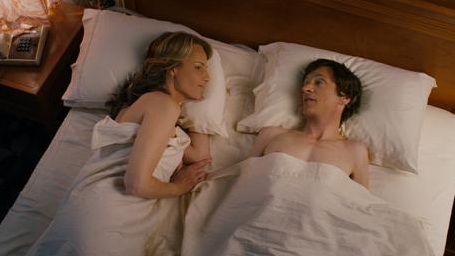 Mark O'Brien, also the subject of Jessica Yu's Oscar-nominated short documentary Breathing Lessons, was a journalist and poet who, after a childhood bout of polio, was rendered immobile from the neck down and lived most of his life in an iron lung. That didn't keep him from studying English literature at the University of California at Berkeley. It didn't keep him from working as a writer. And it didn't keep him from, at the age of 38, going about losing his virginity.
This is where writer-director Ben Lewin's The Sessions picks up, with Mark (portrayed by John Hawkes) yearning for an intimate connection with someone other than his beastly in-home helper. He seeks advice from a therapist and a priest, Father Brendan (William H. Macy), who, following the spirit rather than the letter of religious law, encourages him to employ the services of a sex surrogate.
When he's not lying in his iron lung, Mark gets around on a gurney, so his confessions with Father Brendan must take place right in the sanctuary. Talk about awkward, but the most intimate aspects of Mark's life have always been an open book, so he doesn't seem bothered by it. What is bothersome are the confessions themselves: It's unclear initially whether it's one conversation or many and whether they're even necessary structurally except to convey Mark's devout Catholic faith.
Lending more insight more organically are the case notes of Cheryl (Helen Hunt), the woman Mark hires to teach him how to make love. Married to an out-of-work philosopher (is there any other kind?), she's a wife and mother who just happens to have sex with strangers. She's not a prostitute. For one thing, she isn't seeking his return business—their work together is limited to no more than six sessions—and her job is to prepare him for a future partner.
It's a naked role, literally and figuratively, that brings nuance to a story that O'Brien himself first told in a 1990 article called "On Seeing a Sex Surrogate." Despite an uneven Boston accent, Hunt reveals the difficulty and professionalism required of a woman who opens her heart for a living.
Moon Bloodgood, too, is memorable as Vera, the assistant Mark hires after he fires a particularly unsympathetic helper and scares away Amanda (Annika Marks), a sexy college girl to whom he professes his love. With both compassion and a firm hand, she facilitates Mark's appointments with Cheryl, first at the home of a friend (Jennifer Kumiyama, a disabled actress who's utterly charming in her first film role). Later, they move to a hotel, where Vera straightforwardly explains to the incredulous clerk (Ming Lo, a gem) what exactly is going on upstairs. "Today, they're working on simultaneous orgasm," she explains. "What's that?" he asks.
Hawkes is as wonderful as ever, physically transforming for the role by adopting Mark's distinct nasal, little-boy voice and lying on a soccer-sized foam ball to achieve the character's spine curvature. The role wasn't only physically challenging, however: In the grip of fear, he lashes out at the person he's hired to have sex with him when she just tries to touch him. He seems wimpy and whiny—unattractive traits that violate voyeurs' desire that he be stalwart and resilient in his disability. Yet Hawkes also captures Mark's sensitivity and wit, the aphrodisiacs that ultimately draw women to him.
A frank exploration of sex and disability, The Sessions compensates for a minor structural misstep with an acute ear for tone and stellar performances throughout the cast.
Director: Ben Lewin
Writer: Ben Lewin
Starring: John Hawkes, Helen Hunt, William H. Macy, Moon Bloodgood, Adam Arkin
Release Date: Oct. 19, 2012
Others Tagged With