The Walking Dead Review: Episode 3.3 "Walk With Me"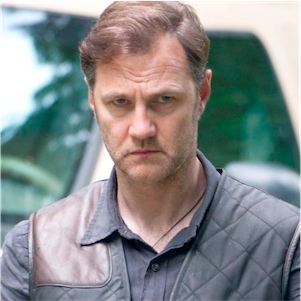 Fans of Robert Kirkman's comic-book version of The Walking Dead have been pretty vocal about their excitement for the introduction of two characters to AMC's TV version this season: Michonne (Danai Gurira), the katana-wielding bad-ass with a pair of zombie pets on chains, and The Governor (David Morrissey), the iron-fisted leader of Woodbury, a quaint little Main Street USA in the middle of the zombie apocalypse. Tonight they met each other. It doesn't look like they'll be fast friends.
But it's immediately apparent why these characters stand out in the comic book. Quiet, distrusting Michonne has stood by Andrea's side for seven months, but even Andrea admits to hardly having learned a thing about her—like who the real identities of Thing 1 and Thing 2 are. But faced with capture, Michonne doesn't hesitate to behead her longtime companions to keep them quiet. "It was easier than you'd think," she says.
The episode, "Walk With Me," opens with a helicopter crash—an unusual sight so long after the destruction of civilization. Andrea and Michonne aren't the only ones to investigate, and they're discovered by none other than Daryl's brother Merle, who disappeared in the first season after cutting off his hand to escape Rick's cuffs. "I guess this whole world gets smaller at the end," he tells Andrea.
Relieved of their weapons (something that doesn't sit well at all with Michonne, who behaves a lot like a caged tiger without her katana), the duo explore the Governor's strange realm. But even those who didn't read the books likely noticed something a little creepy about this particular oasis. And the Governor soon reveals his dark side (at least to the audience) as he and his boys massacre the surviving soldiers who were friends with the the helicopter pilot he rescued/captured.
"I'm good with loathed," Morrissey told me at Comic-Con earlier this year. "I think you don't ignore him. That's the good thing. He's a great character, taking the spirit of the book and putting him up there on screen. Sometimes the devil gets all the best tunes. I'm just enjoying being him, but there's a complexity to him as well, though. For me, it was reading Robert's book, which is The Rise of the Governor. The person I'm playing is very much the person that comes out of that book."
Things only got creepier during the final reveal, when the audience learns that Michonne and Hershel weren't the only one keeping zombie pets. The Governor's are living heads in a series of private aquariums—including Michonne's companions and the helicopter pilot, but not Richard Nixon (sorry, Futurama fans). I guess there's no longer anything on TV.
An original action hero of few words and psychopathic villain who's already scarier than a horde of zombies—this first episode without Rick Grimes promises plenty of compelling drama outside of the sheriff's new prison home. Ever since he escaped the horde in Atlanta, the zombies have been better as supplemental villains to the broken and twisted men who've posed an often-greater danger to the other survivors—Merle, Shane, Dave, Tomas (from last week), the occupant of the storage warehouse in the latest webisode, and now The Governor and his small but ruthless army.
Kirkman seems to believe that people will break every which way when they're unfettered by the ethical standards of a stable society, and he's got a history's worth of genocide to back up that argument. There are people you don't want to meet in a zombie apocalypse, and The Governor may just be chief among them.
Others Tagged With