Van Morrison: Born To Sing: No Plan B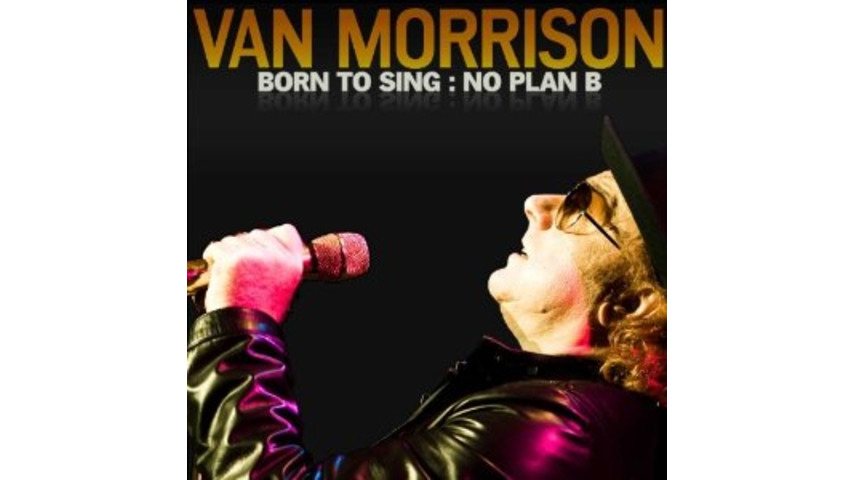 Van Morrison's latest, Born To Sing: No Plan B, seems to be a challenge in the game of cutting slack. I spent most of my first listen wincing—and also wincing about wincing.
Morrison's Moondance continues to enjoy glitzy popularity in the modest Grimm household down in Florida. Long before I discovered all 14-year-old boys felt forced to add "Brown Eyed Girl" to his limited guitar tune canon, it was the song my dad would fix the needle to for me. I have a soft spot for The Belfast Cowboy and had been prepared to love Born, but, some decades have passed since most of my favorite Morrison work was released.
Van The Man—now nearly 70—ain't exactly still spry, many of my friends pointed out when I started complaining about the album. OK, yes, this is fact. He even cheerfully reinforces this fact in "Open The Door (To Your Heart)" with the line, "Nobody gets what they want / Tell me what's the use in that / Everybody just gets fat / Open the door to your heart." Sure. Van isn't really selling me on this aging thing, failing to also mention the killer perks like socially accepted 10 a.m. lunches and cardigans forever. He continues to rattle off more probably personal defenses, including, "My life doesn't make you fulfilled / My life's just to pay the bills / It's need, not greed / Open the door to your heart." Yes, but then if that's the case, please explain the album title. Anyway. The chorus fails to make a lick of sense, crudely kneaded into the scat-heavy opener ("Open the door to your heart / Open the door to your soul / Get back in the flow / Open the door to your heart"). Not once does the recurring "open the door to your heart" make sense in a way other than "stop hatin', you agoraphobic oldster" or perhaps something more akin to the plot in How Stella Got Her Groove Back—or maybe those are synonymous?
Perhaps "End Of The Rainbow" straight-up investigates capitalism and other political whatever, but it could just be Van whining about wearing stretchy pants again.
Alright, so keeping in mind the passage of time and its ravaging effects on Morrison's garbled singing (and Morse code scatting… no one could jump to that favored technique's teeth), I get it. We get all get old and apparently fat. Moving on. The whole album feels like it could be played live seamlessly in a dark, midtown divorcees' lounge.
"Born To Sing" holds to the live, piano bar feel. Its horns and keys juggle Van's beautiful, indecipherable hollering. It moves at a slow, delicious pace, like the whipped cream vodka cocktail the bejeweled, hunched woman at the corner booth nurses.
The most infuriating track of the record, "Close Enough For Jazz," doesn't bother introducing the hook-prickled singing until two-and-a-half minutes in. The chorus' cadence follows that set by the Dillards elevator brass, repeating the title, sprinkled with uncomfortable old person sex innuendo. The loose-skinned in the club are definitely up and jitterbugging now, folks. (Pro tip: Try singing "Jingle Bells" ad nauseum to dislodge the refrain from your frontal lobe.) But this is the style Van's been after lately, so another thick hunk of slack gets sliced for the soul legend.
Born To Sing is absolutely not all bad, but by the end of the album and rolling tally of excuses, the slack stack measures tall. At what point can that tower be called too high? At what point does it no longer matter that Van Morrison secured himself as a soul legend eons ago? When does the album get judged on its own, as a entity separate from its creator's remarkable past?
If we look at Born as a Van Morrison release circa age 70—lyrics holding less meaning and coherence (does anyone else note the extreme Randy Newman resemblance?) but much much much more scatting, dingy piano bar elbows and all—it's fairly enjoyable. It's impressive his voice can still do much after such abuse. Really, it's impressive that he hasn't redirected his royalty checks to a remote island and moved off the grid. He's still around, and that kinda rules.
But if we take away the album's flaw-washing glow from the creator's golden history, it doesn't stand on its own. It's a decent Van Morrison record, but a slightly creepy and almost missable piano soul record.
Others Tagged With