Best Buy's Call of Duty: Black Ops II Play It Early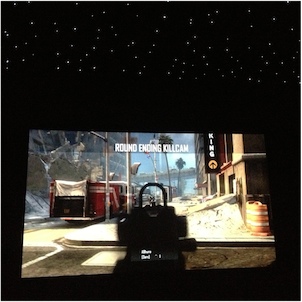 Promotional
Last night, gamers who couldn't wait for the midnight release got a special sneak peek of Call of Duty: Black Ops II three hours before the franchise's latest release at Best Buy stores across the country.
I joined in the madness at Atlanta's Perimeter location, arriving long after the first player, Rich, who showed up two hours early, despite the rain. The reward for his devotion was a free controller, one of the many prizes given out to the early players. Behind him was Pete, who'd gotten the day off of his office job today so he could stay home and play. The upside of the rain was that it moved the line inside, so we could munch on Gamer Grub and watch Monday Night Football on a 90-inch screen while we waited our turn to check out the game.
One of the game's most devoted fans, Jake, a 7th grader at Peachtree Middle School (my alma mater), got dropped off at 9pm. He was too young to take part in the pre-release festivities without a parent, and his parents weren't coming back until 10 minutes to midnight. "I'll probably take a nap in study hall," he said.
When my turn came, I sat in a plush movie-theater seat, next to 14-year-old Stephan (there with his mom) and recent college grad Diego. It fell to me to go first, and I put on a show of dying spectacularly and rapidly as I oriented myself to the urban wasteland of a crumbling Los Angeles, littered with abandoned emergency vehicles. The darkened Magnolia room with a 103-inch screen and surround sound only increased the intensity as I roamed through the destruction hunting heavily armed soldiers in a free-for-all.
Later I got a second chance, and Stephan—who began with 10 straight kills and finished 14-2—set me up with a submachine gun and a crossbow with exploding bolts. This time, I killed assailants more times than I died. But I won't be dominating any multi-player rounds any time soon.
Response from the early gamers was pretty glowing. About half were itching to jump right into multiplayer mode when they got home. For the other half, it was all about fighting the undead.
"Zombies is what takes it up a notch," said Stephan. "All you need with zombies is just something to bash their heads in."
Got news tips for Paste? Email news@pastemagazine.com.
Others Tagged With