Catching Up with Everest's Russell Pollard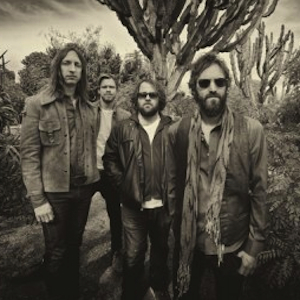 Going into the recording of their third full-length album, LA-based rockers Everest found themselves in an interesting place—out of a major label contract with Warner Brothers, and into a deal with indie stronghold ATO. The transition was one that frontman Russell Pollard says gave the band increased freedom in the studio, a spontaneity you can hear on the loose, live-feeling Ownerless, which the band released on June 26. Everest teamed up with Rob Schnapf (AA Bondy, Tokyo Police Club) and Richard Swift (Damien Jurado, The Mynabirds) for the album, recording the tracks in a smoky clubhouse next door to a chicken coop. These days, the group is getting ready to head out on a fall tour as the opening act for Neil Young & Crazy Horse. We caught up with Russell Pollard to talk about playing live with childhood idols, working up a sweat in the studio and letting loose on the road.
Paste: I wanted to start off by talking about the leg of the tour you just finished. Did you think the album went over well? Did you get any interesting reactions to the songs on it?
Russell:Yeah, I mean, overall, the reaction at all the shows has been positive. People like what we're doing right now, I think, because we like what we're doing. We're just engaging people a lot more than the last record.
Paste: What do you feel like has changed from then to now?
Russell: I think the band is feeling really confident and connected, and I think we really like the songs on this record. So our performance has changed, because the whole band is really happy with what we're doing. It's a lot more raw and a lot more energetic. It's better; it's more fun.
Paste: You guys transitioned from a deal with Warner Brothers to ATO for Ownerless. How did that change the whole experience of recording the album?
Russell: Yeah, things changed in a lot of ways. I mean, mostly, just for our headspace. For me personally, I had all this anxiety about what they expected. And knowing that, you know, they really didn't know what to do with our band. But there were people there who had a lot of heart and who put a lot into us, and who really wanted it to work out. I think we really didn't want to disappoint them and lose that relationship with them. As a whole, Warner Brothers isn't just those two people, it's a company that looks at numbers and record sales, and that's about it. The difference being at ATO, they really just asked us to turn in the record that we wanted to make and do the rest. We felt like no one had their thumb down on us creatively and there wasn't a huge financial expectation or a huge radio expectation, none of that stuff, so that's what we're happy with.
Paste:So it kind of freed you guys to have a little more fun with what you were doing?
Russell: Yeah, I mean it just freed us to actually kick around each other more and relax. Build on each other's strengths, try to pull for each other in our weaknesses, and take our time. Before, we were so rushed that everyone was kind of stepping on each other, just to try to get the record done. And I think that this was a blessing in disguise in that we just figured out how to be a better band.
Paste: Ownerless really has a live performance feeling, which I think ties into that aspect of having fun with it. I was thinking taking that on the road and playing it live would be an easy and a fun transition, just because it has such a raw, un-produced sound.
Russell: That's awesome that it came across that way to you. I love listening to Rolling Stones records and feeling like you're in the room with them. You can hear the bleed. You can hear all that happening. You can hear guitar and bass kind of resonating through the mix, and you can hear all kinds of stuff that you can't really hear in a canned record, that's all tightened up and feels air-tight. That was the beauty of working with Richard Swift, because that's how he functions. It was very open. It was more about the people in the room and what they're doing than about the gear. So that was refreshing.
Rob Schnapf is the same way. He loves old records; he loves classic records and the way they were produced, which is something that we all wanted to try.
Paste: What are your favorite moments on the album, as a vocalist or as a guitarist?
Russell: That's a good question. While we were working with Rob Schnapf, I wanted to impress him, to be totally honest. So I worked really hard on my vocals, and on the lyrics. In the studio, I wanted to stand far away from the mic and really sing loud, because that's how it feels when I'm on stage with the band. It's so loud that I have to push a lot of air.
I think it's different when I go into the studio. I get more tender and more shy, because you're under the microscope, and everybody's looking at you and waiting for you to do some magical thing. And you don't always feel like you can pull that off, and I think I was able, with Rob, to set up in the studio the way that I would feel on stage. And some of my favorite moments involved me just being able to really work up a sweat doing tracks in the studio, which I've never really done before.
Like, on "Hungry Ghost," it was really challenging. And every time that I play it live, it's the hardest thing that I have to do in the whole show. You can never go on autopilot with this record. That's how I feel. It's hard to pick a favorite, but I think that would be one of them.
Paste: Neil Young and Crazy Horse picked you guys up to go on tour with them again this summer. What's it been like being on tour with them again?
Russell: Actually, we just played last night with Crazy Horse. It was one of the best nights of my life. You know, the difference is, we've done different tours with him in the past. The main difference is that he's so happy and childlike on stage. I've never seen him that happy. You see that, and that's got chemistry, that band, that friendship. It goes so deep. It's so rare and unique.
To be a part of that show and to warm up that crowd, to get the chance to shake his hand and see that happening on stage—that's the greatest gift I've ever had, besides my family. And it's just like, you know, playing with your childhood heroes, and knowing, once that curtains unveiled, and you get to talk to them, knowing that they're really nice people. They're for real. It's just the greatest thing ever. I wish I could teleport home every night and still get to do it.
Got news tips for Paste? Email news@pastemagazine.com.