Donate Games to Veterans This Saturday Through Operation Supply Drop
Captain Steve Machuga knows how much a care package can mean to a soldier. Having served two years deployed overseas, including thirteen straight months in Iraq, the retired Army veteran understands how powerful a small gift from home can be.
So when his unit received a package of used Harlequin romance novels from a library, he knew the donors meant well—even if the gift didn't exactly nail the demographic. Still, the troops managed to get some joy out of the bodice-rippers: They used the books for target practice.
Most charities don't have their origins in pictures of Fabio riddled with bullet holes. But this was the inspiration for Operation Supply Drop, a nonprofit organization Machuga founded in November 2010. An avid gamer himself, Machuga discovered that many of the soldiers under his command also found gaming a great source of enjoyment and stress relief. So he founded Operation Supply Drop with a simple mission: create videogame care packages to send to his fellow servicemen and women deployed overseas.
Through its website, Operation Supply Drop solicits requests for care packages from the friends and family of deployed personnel. Working out of his home in the Washington, D.C. area, Machuga and a handful of volunteers—including his wife—do their best to fill each request with donated and purchased hardware and games. Once the packages are assembled, they're shipped out to troops with code names like FOUR HORSEMEN and SILVER AEGIS. The monetary value of the care packages often exceeds $2,000 apiece. And although the number of requests far outweighs the number of packages Operation Supply Drop can send, Machuga does his best to fill every one—especially when the recipients are stationed in particularly dangerous areas like Afghanistan's Helmand Province.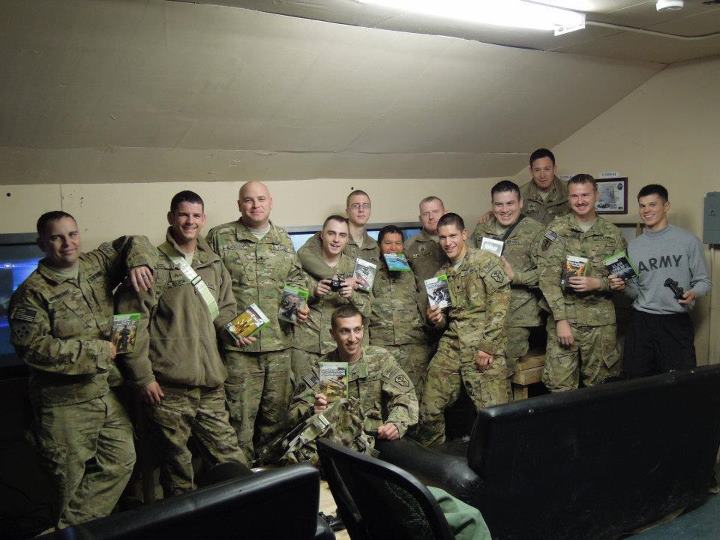 At only two years old, Operation Supply Drop has already garnered an impressive following. "It's grown exponentially since its inception," Machuga tells me via email. Operation Supply Drop's list of industry supporters is a catalogue of heavy hitters: EA, Activision, Microsoft, 2K and Valve are only a few of the big names on board. And, Machuga says, "almost every third-party developer out there has helped out over the years in some form or another." Aside from games, developers' donations often include swag like t-shirts, artbooks and figurines. "Just this week we got a pretty flippin' sweet Black Ops 2 poster from Treyarch, signed by the entire dev team," Machuga reports.
Donating video games may seem like a small gesture, but as the feedback Operation Supply Drop has gotten from men and women downrange demonstrates, it can make a terrific impact. Long deployments can take an immense physical and psychological toll on troops, particularly in the harsh environments of Afghanistan. In those harrowing conditions, "anything that helps take your mind off where the hell you are and what the hell you're doing is a godsend," Machuga says. Especially since soldiers often have to fight boredom during their off time, when they're not fighting the enemy. "You'd be surprised how much sitting around there is, just waiting for something to happen," Machuga explains. Long stretches of inactivity between tense engagements only add to soldiers' stress.
Given the threats troops face during engagements, you might think they'd prefer to relax with innocuous video game heroes like Mario. Not so, says Machuga. "Call of Duty is consistently on every wishlist I get," he says, "as well as most of the big first-person shooters like Halo. Yes, I understand the irony behind this, but there you have it. The boys downrange LOVE their shooters."
Oddly enough, those exact franchises may have therapeutic value. In her keynote at PAX East 2011, Jane McGonigal mentioned both games while discussing an Army research study on coping mechanisms for deployed soldiers. Those who played video games for 3-4 hours a day, the study showed, demonstrated significantly lower levels of PTSD and other psychological ailments. So Operation Supply Drop's care packages aren't just heartwarming gestures. They also provide much-needed mental relief for our men and women in harm's way.
As the country prepares to honor our military this Veterans' Day, Machuga is ramping up for Operation Supply Drop's own celebration. The organization is throwing a nationwide party this Saturday, November 10, called the 8-Bit Salute to Veterans. Events are planned in Chicago, New York, Dallas, Los Angeles and elsewhere, but Machuga invites gamers everywhere to participate. "Our objectives are obviously to raise awareness and money for the charity," he says, but the ultimate goal of the campaign is to get even more care packages out to troops stationed in Afghanistan. If you want to contribute, Machuga says, you can visit OperationSupplyDrop.org or FrontTowardsGamer.com. And making a donation could net you some sweet swag. "We're raffling off a bunch of neat gear that has been donated to us from different organizations," Machuga teases.
But the real reward, of course, isn't in the stuff you might win. It's in knowing your donation will end up putting a smile on a soldier's face—a smile you'll probably see posted on Operation Supply Drop's website, along with a letter of gratitude, once the care package is received. "I'm just glad I can help these guys out," Machuga says. So are we, Captain.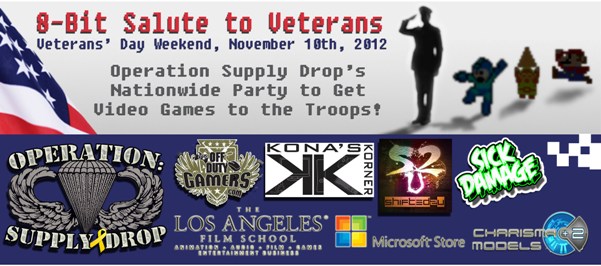 Others Tagged With