Joe Biden to Appear on Parks and Rec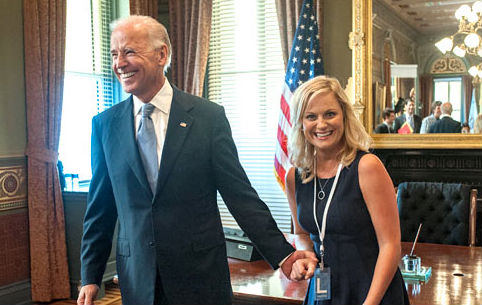 Much of the in-progress fifth season of Parks and Recreation takes place in Washington D.C. where Adam Scott's character, Ben, now works. In addition to giving Leslie Knope an excuse to make repeated visits to the political capital of the U.S., it also brings her closer to the ultimate object of all her sexual and political desires: Vice President Joe Biden. On the season's next episode, to air on Nov. 15, Knope will finally get to meet her idol, who will make a guest appearance, according to Entertainment Weekly.
Spoiler Alert
In the episode, Ben tells Leslie he has an engagement present to show her before leading her into a chamber where Biden is meeting with some aides. The scene is less than a minute long and was filmed in July when Parks and Rec traveled to Washington D.C. to film the season premiere. It was written so that it would be relevant regardless of the outcome of Tuesday's presidential election.
"The hardest part was keeping it secret for so long because there's all these FEC rules and equal-time rules," show runner Michael Schur told Entertainment Weekly. "We couldn't air it before the election because it was the equivalent of a campaign contribution to advertise for one candidate."
Below, you can check out a quick preview of the scene, which ends with Biden turning to Knope and flashing her his trademark smile. The episode will air next Thursday, Nov. 15 on NBC.
Got news tips for Paste? Email news@pastemagazine.com.
Others Tagged With