Laura Lamont's Life in Pictures by Emma Straub
A Hollywood Name Game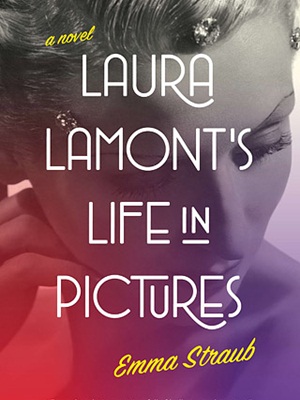 Doris Mary Ann Kappelhoff and Doris Day? Vera Jayne Palmer and Jayne Mansfield? Norma Jeane Baker and Marilyn Monroe? Did these real-life female doppelgängers share anything in common besides plucky attitudes and curvaceous physiques?
And when fictional Elsa Emerson changes her coif from a Wisconsin cornflower blonde to a rich, serious Hollywood chocolate-brown, does she shed more than her hair color to become Laura Lamont, starlet of the Silver Screen?
Emma Straub takes her leading lady, and the reader, on this intriguing journey in Laura Lamont's Life in Pictures. Straub provides the reader with a rare treat; we follow a young woman's trajectory towards fame from childhood all the way into old age. We find a satisfying, linear arc that's rarely present in contemporary novels.
The novel refers to Laura Lamont, but we meet her in the beginning of the story as a young girl named Elsa Emerson. Elsa works behind the scenes at her family's summer stock theatre on the edge of Lake Michigan in the early 1930s. The idea of Hollywood and motion pictures never even flickers in this young girl's mind—the spotlight shines instead on her older sister, Hildy. In fact, Elsa cares more about the romantic exploits of her older sister than being a leading lady. But when tragedy strikes the family, attention turns to Elsa. She steps in front of the curtain, and falls in love with the glow of the footlights.
The novel up top feels a bit like a war-era version of Dirty Dancing—the ugly duckling younger sibling finds her wings. But the story pulls a twist on the myth of the farm girl making her way to Hollywood. Elsa first gets married, goes West and gets pregnant with quick work.
It's a nice flip of the typical starlet script. Elsa hitches her star not to a handsome leading man, but to Gordon, a brooding, aspiring character actor with a growing drug problem. Gordon becomes employed by Gardner Brothers studios, as one in a stable of actors. Meanwhile, Elsa snags a chance meeting with the dashing producer Irving Green, who promises that if Elsa can drop the baby weight, he can make her shine.
After Elsa meets and falls in love with Irving, dropping the dead-weight of Gordon, her Hollywood transition to idol status seems as easy as applying hair dye, slipping on a silk gown, and picking a new alliterative stage name: Laura Lamont.
Emma Straub's love of the Golden Age of Hollywood shows in the way she makes Laura's early life in pictures feel like a breezy, fun Busby Berkeley musical number. We get the bubbly romance, lively parties and even adorable children (when they're allowed to speak).
Several characters suggest a fun, insidery guessing game of who's who: The gay leading man must be a stand-in for Rock Hudson. The mouthy redhead Ginger must absolutely be Lucille Ball. These fun and games give the first half of the book the feel of a frothy confection, not at all a bad thing. But this novel only finds a substantive fictional stride when Elsa's roots start to show up in Laura's glamorous life.
When Laura takes her family back to Wisconsin for the first time in a decade, she wonders which name her husband should call her. Is she Elsa now? Is she Laura? This sort of tension gives the novel depth and complexity. Even so, for a story that sticks so closely to Laura's point of view, the actress's interior life gets very little attention until middle-class past collides with star-studded present.
Straub gives us a scene when Laura's parents awkwardly attend the Academy Awards. With her uncomfortable mother in tow—her mother does not even try to hide disdain for her daughter's gaudy existence—Laura finally starts revealing herself to the reader:
She was a body double, and her mother was the only one who saw it. Her dress pulled tight across her hips—it wasn't made for sitting, not really. Laura wished she could flutter her eyelids shut and open them on Cherry County Playhouse Road.
As Laura's glamorous life muddles with Elsa's plainer past, Straub puts her heroine through the ringer. The starlet suffers personal losses and endures the undeniable fact of aging. As Laura's easy luck goes sour, Straub shows the lengths the actress will go to in order to stay in the spotlight. From hasty sex in a car to attending a less-than-kosher meeting with a wealthy, handsy investor, Laura's moments of success drip with too much Hollywood sheen to feel fresh. Straub's writing feels most original and strong when she's pulling Laura through the mud, then making her find a way to clean herself up.
In real life, the author makes a unique promotional choice for Laura Lamont's Life in Pictures: She boards a tour bus, providing the opening act to performances of indie band The Magnetic Fields.
It may seem a strange pairing … but if you listen to the Field's new album Love at the Bottom of the Sea alongside a reading from Straub's novel, something clicks. Underneath the bubbly lilt of Stephin Merritt's voice and the trill of the keyboard seems to lie the same anxious worry Laura Lamont feels—does every star wonder when he or she will be found out for a fraud?
A song off the Field's new album, "This Horrible Party," could serve as an anthem for Laura as she starts to see the desperate underbelly of the Silver Screen.
Take me away from this horrible party
And let me get home to Mother
Don't make me stay at this horrible party
And I'll never go to another
People are shedding their inhibitions and their clothes
Many are sprawled on divans painting each other's toes
Everyone seems to be stuffing something up his nose
A player piano is tinkling "Anything Goes" again and again
Deliver me from this horrible party
And I will give you some money
Why, why are we at this horrible party?
And I don't see what's so funny
Here in the darkness known hitherto only to moles
People are using the slang they picked up from the proles
Everyone's finding new uses for muffs and mink stoles
And "Anything Goes" goes again, how they know all the roles
Some plastic surgeon's done horrible things to poor Jane
Making her terrifically popular, men are insane
"Anything goes" is the motto and endless refrain
My dear, it was heaven until they ran out of champagne
With a precise balance of glitz and dirt, Emma Straub's Laura Lamont's Life in Pictures captures the scope of great, sweeping cinema. Straub ultimately earns a reader's desire to follow the character of Elsa Emerson/Laura Lamont through most of her life by stripping the character's gleaming, diamond-laden exterior and showing her guts.
It's not surprising that this novel tours with a band. It deserves its own soundtrack and spotlights.
Diana Metzger did her time in Los Angeles, but now lives with her husband and dog in Washington, D.C. She's written for Flavorpill.com, Boldtype.com, Elle Magazine, and NEArts Magazine. She currently works as a freelance writer and as a house manager for Studio Theatre in Washington, D.C. You can follow her on twitter: @iamdianametzger.
Others Tagged With