Revolution Review: "The Children's Crusade" (Episode 1.07)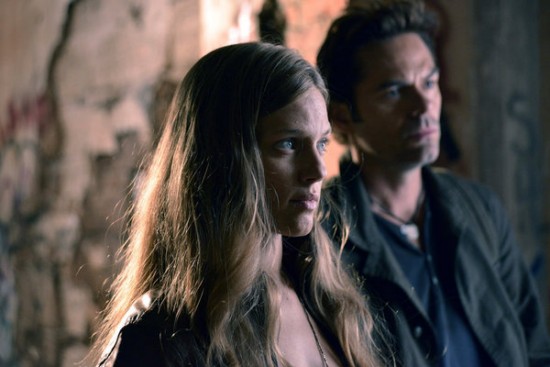 Revolution certainly started off with an attention grabbing scene this week. Recently, Charlie had grown hardened, but here we see her tied to a table, squirming as she begs not to be branded with the Monroe militia insignia. I thought it was the show's horrible attempt at a shocking opening that would eventually be revealed to be a dream. But it wasn't a dream, and it wasn't a horrible attempt. We find out it is in fact happening. Cut to two days earlier and the facts start to pour out.
"The Children's Crusade" begins with the foursome encountering a gang of orphans living in an abandoned building. The children don't know anything about militia or the former United States. Their parents were American rebels who were all killed by Monroe's men. Now it turns out the eldest orphan was captured by the militia, and Charlie, going completely soft over the children's predicament, agrees to get the leader back for the sake of the orphans.
Charlie's complexity grows. One minute she's so focused on getting her brother back, and the next she's putting her life in danger for someone she just met. Of course this episode is another detour from the show's master plot, but it does do its job of revealing important pieces of information. In fact that it proves that Charlie isn't softened at all. It just proves she's crazy enough to do whatever it takes to do the right thing, even if it means sacrificing her safety or ruthlessly killing a militia member.
Even Aaron, who came into his own in the past weeks, proves himself yet again by saving the day—well, accidentally saving the day after he turns on the pennant. This leads to the truth finally coming out. Miles is furious, and Charlie doesn't know what to think. It was a major leap in plot development and set up what is sure to be an important episode next week.
In between all of this is a series of important flashbacks. Last week I said that the flashbacks slowed the show's progress, but this week they did the complete opposite. We learned leaps and bounds about the history of the blackout. It turns out Ben and his scientist co-workers were working on a way to generate clean low-cost electricity, but they invented something to inhibit electricity. The start-up company was losing money fast and turned to the Department of Defense, who was interested in buying their technology. It turns out that Rachel had a bigger hand in selling the technology than Ben did, and she holds more secrets to turning the lights back on than we originally thought.
We've known for a while that it probably was Ben's group who caused the blackout, but now we have our biggest clue that the United States government was behind it somehow. But why?
Others Tagged With