Sons of Anarchy Review: "To Thine Own Self" (Episode 5.11)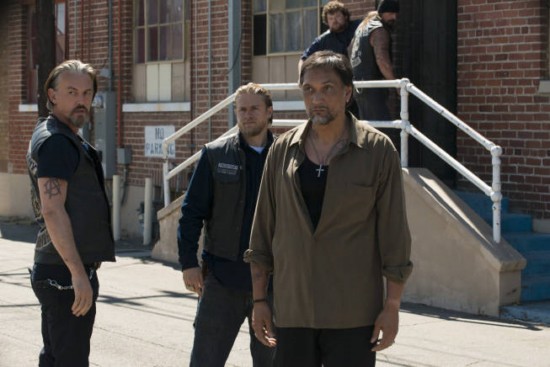 "We're running out of time," laments Jax, and he couldn't be more right. The latest from Sons of Anarchy continues to unravel SAMCRO as well as set up for a dramatic season finale that it is now clear must end with Clay's death. But before we get there, we had to sit through another extended episode that provided the characters with a lot of information, but it was information we viewers already knew.
"To Thine Own Self" settles a lot of the mystery surrounding all of the SAMCRO members' secrets. Clay's involvement with the Nomads is sort of out in the open, as was his involvement with the attack on Tara. Jax's master endgame is finally starting. Even the storyline about whether or not Tara will take the job in Providence (she does) was neatly wrapped up.
Outside of the trickling of secrets, Nero's old gang wants guns, and Jax sets up a deal only to be ambushed. The incident offers the only real action of the episode as SAMCRO survives three packed cars shooting at them by driving their station wagon down the side of a rocky hill in the middle of the desert. Yes, a station wagon. This leads to one epic scene.
Nero's sudden unhinging was by far the most poignant part of the episode. First he guns down his former crew as he proves how much of a badass he truly is. Throughout the entire season he has played it cool and was always the voice of reason. But his gun-wielding rant was reminiscent of Jules' in Pulp Fiction. Not only did he steal this episode once—he does it again during his breakdown at Gemma's doorstep. Jimmy Smits has always been an acclaimed actor, but his stint on Sons should certainly earn him some award nominations.
Then there is the introduction of Donal Logue's (Terriers) mysterious character. He has some relationship with Otto, but we don't know exactly what. We see him briefly set an attack up on Otto and then discuss something with him. Finally, as Tara is happily walking with her two boys, Logue's character is seen following her, like a predator stalking his prey. Whoever he is, he is certainly trouble.
Outside of Smits' big performance and Logue's introduction, the episode is a lot of filler setting up the final two episodes. There has been a quiet storm brewing between Jax and Clay and for weeks I've waited for it to finally come to the forefront, but of course it hasn't. We'll have to wait until the season finale until the two go at it, and as I've stated previously, only one will walk away. There's no way Clay can survive another season without disappointing fans and turning the tightly written show into even more of a soap opera.
Others Tagged With