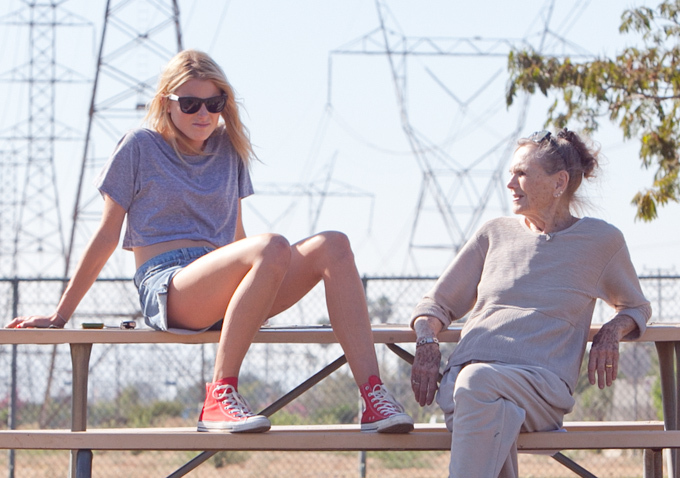 Though the plot of Starlet may sound formulaic—an aimless, young woman forms an unlikely friendship with a crotchety, elderly woman—the film is handled with a level of care and understatement that elevates it. Buoyed by strong performances, particularly from newcomer Dree Hemingway, Starlet nearly has as much charm as the cute, canine character after which it's named.
Set in California's San Fernando Valley, Jane (Dree Hemingway) is a pot-smoking, flighty 21-year-old with a sidekick chihuahua. After discovering more in a thermos purchased at a yard sale than she bargained for, Jane attempts to return what's not hers to the seller, an 85-year-old widow named Sadie (Besedka Johnson). Jane soon becomes enamored with the curmudgeonly Sadie, and after Jane's repeated efforts, the two strike up a friendship.
Writer/Director Sean Baker (Prince of Broadway and Take Out) keeps the plot simple and relatively unsentimental, despite a premise loaded with the potential for saccharine sweetness. (It helps that he chose an unsavory profession for the main character and that both actresses give naturalistic performances.) One can see why Besedka Johnson won recognition at SXSW, and Dree Hemingway is being singled out as a newcomer to watch. There's a freshness to their acting that was undoubtedly fostered by Baker's encouragement to improvise. The supporting cast deliver strong performances as well, especially Stella Maeve as a ditzy, manipulative roommate and Karren Karagulian as a caring but sleazy adult video company owner.
Complementing the performances, Baker and cinematographer Radium Cheung have chosen strong compositions with a loose, handheld documentary shooting style that perfectly plays off of the valley's natural sunlight. As a result, though Starlet does not have the most original of premises, it does manage to shine in other ways.
Director: Sean Baker
Writer: Sean Baker & Chris Bergoch
Starring: Dree Hemingway, Besedka Johnson, Stella Maeve, James Ransone, Karren Karagulian
Release Date: Nov. 9, 2012
Others Tagged With