The New Normal Review: "Unplugged" (Episode 1.08)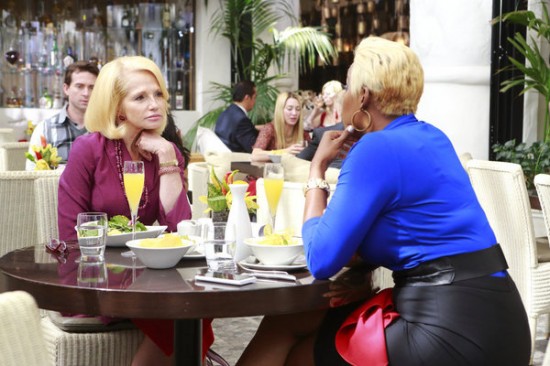 It's been a few weeks since The New Normal has been on the air, due to election coverage and NBC's affinity for switching around their schedule for seemingly no reason. But with the show's previous new episode, The New Normal seemed to have turned over a new leaf, with Jane supposedly leaving California after the two finally had a blow-out over Nana's actions, and when the show tried to take a stance on religion, for the first time in the show's history, it was able to make valid points.
Well, those times are over.
"Unplugged" is things back to usual on The New Normal, returning with its glaring problems now in full force.
There was part of me that was intrigued by the cold open, which featured Cheri Oteri teaching Bryan how to perform CPR on a baby after it swallowed a button. But this led to Bryan worrying more about his garment missing a button and checking his tweets than the baby. Plus, after this moment, Oteri is never heard from or mentioned again. What a waste.
For some reason, Nana Jane and Rocky are now becoming friends, since they both speak their minds. This just seems like an incredible stretch, just to give Jane some sort of companion now that she's basically burned all bridges. Jane matter-of-factly states that she will be staying in California until the baby is born. When was this decided? Last thing the audience heard, she was kicked out of Goldie's family until she could change.
That aside, Rocky decides to teach Jane how to use Twitter, so she can send all the horrible things she thinks into the internet, rather than saying them out loud. As @NanaUrBusiness, she tweets "edgy" things like "if you follow Rachel Maddow, punch yourself in your hairy crotch." Whoa! Good thing this show is on at 9:30! Jane finds a video on Rocky's computer that features Bryan singing to David, which she dubs the 'gayest video ever' and sends it out into the world. Also odd about this scenario: Jane hardly knows how to post a picture online, but she's worldly enough to know to block Bret Easton Ellis?
Meanwhile, David, Bryan, Shania and Goldie come to the realization that they spend too much time looking at screens and decide to pretend like it is 1799 for the day. Within a few hours, David and Bryan are sneaking Internet secretly, and they see Bryan's embarrassing video posted. Everyone at Bryan's show, Sing!, watches the video on set, much to Bryan's chagrin. But all this does is show us that Ryan Murphy is now full-on comfortable with parodying himself, making fun of the various characters on his other show Glee. It's supposed to be played as self-deprecating, but instead just comes off as trying too hard.
In the end, Bryan and David decide they should try to go technology-free every once in a while for their child, but then seconds later are checking their phones and texting each other while in the same bed. The lesson learned? Nothing, except for maybe an even greater dependence on the technology the show spend half an hour pointing out is a distraction.
Whenever The New Normal improves a bit, my expectations are raised for the next week, only to be shot back down. Maybe it was the long gap between the last episode and this one that made "Unplugged" all the more painful. It's such a disappointment, because when The New Normal is on its game, it can be a delightful, funny show, but more often than not, it's just becoming painful. "Unplugged" isn't the show at its worst—it would have to be much more racist than this to match its worst—but I'm not mad at "Unplugged," I'm just disappointed.
Others Tagged With