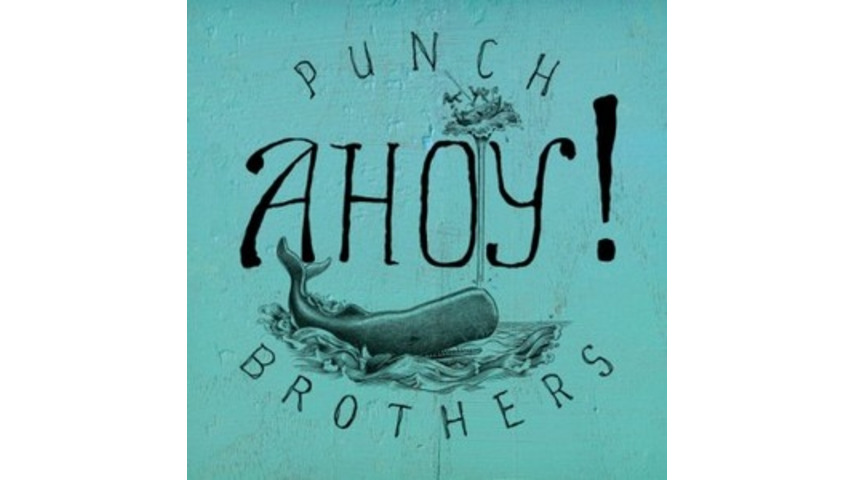 Having one of your songs covered by Punch Brothers is clearly an honor—it's almost impossible to round up a more talented group of players in any genre. But having one of your songs covered by Punch Brothers is also, assumedly, pretty terrifying—there's a good chance they'll end up performing it with twice the flair and skill. On Ahoy!, a five-track EP of b-sides from this year's excellent Who's Feeling Young Now?, the world's most progressive bluegrass quintet puts its signature stamp on three wide-ranging tunes: Josh Ritter's folk epic "Another New World," Gillian Welch and David Rawlings' reflective country ballad "Down Along the Dixie Line," and—the biggest head-scratcher—post-hardcore trio Mclusky's snot-nosed "Icarus Smicarus."
One of Punch Brothers' biggest strengths is that, for all their virtuosity, they also have a sense of humor. They're just as likely to compose a 30-minute, classically-tinged bluegrass suite as they are to cover The Cardigans' "Lovefool" (They've seriously done both). There's something hilarious about hearing frontman-mandolinist Chris Thile snarl "Crawl under a rock, get fucked" in his still-pretty tenor on "Icraus Smicarus," as harmonic pings and fret noise simulate the original tune's distorted ruckus. In the band's rich catalog, it's a pleasant trifle—but these goofier moments help balance out their most bombastic flights of fancy. "Another New World" is—unsurprisingly—transformed from a brooding strummer into a churning sea shanty, while "Down Along the Dixie Line" is splashed with levity and color, doubled in tempo and livened with Thile's smug croon and a handful of brisk solos.
Ahoy!'s true standout, however, (easily trumping the by-numbers original instrumental "Squirrel of Possibility") is a delicate interpretation of the traditional folk ditty "Moonshiner." Thile's voice is draped in roomy echo, as the instrumentation is layered organically, building to a gorgeous acoustic collage, each element balanced equally in the stereo spectrum.
By Punch Brothers standards, Ahoy! is hardly essential. But even on their throwaways, they play with dazzling precision—and their eclecticism is never less than charming.
Others Tagged With