Up All Night Review: "The Game of Life" (Episode 2.08)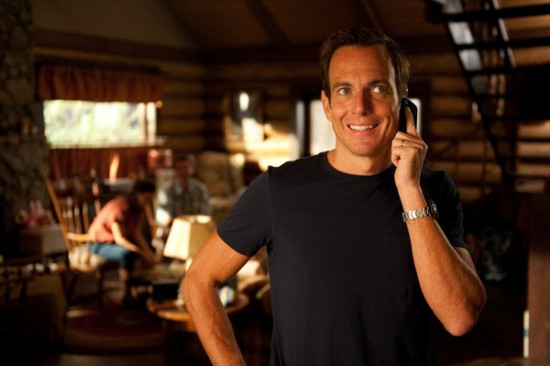 Remember way back to the second episode of Up All Night—the one called "Cool Neighbors"—when I hoped those neighbors would be recurring characters instead of the annoying do-gooders. I wish I had the power to make the show listen to me. Gene and Terry have popped up throughout the show's short life here and there, but they've been around more and more as of late. And I don't like it. Not one bit. "The Game of Life" features a lot of the couple and like Chris said, it was "weird, not fun."
Chris, Reagan and Scott are invited to the Mardens' cabin, where they compete with other families in something called Funlympics. Before we can get to the events Chris discovers Gene is an accountant for the Red Hot Chili Peppers, Metallica and "Mr. Grohl's Band." This launches the normally lovey-dovey Gene and Terry into a huge fight about Gene cheating with his 58-year-old secretary, an act made up in Terry's mind. Chris does a nice job patching things up between them, but the episode really doesn't give Will Arnett any room to shine. He's forced to play a static character despite so much potential.
Meanwhile, Reagan thinks Ava is on a depressing vacation by herself in Palm Springs, so she bails on Funlympics. Once there she finds out Ava is out with her "other friends," forcing Reagan to try to act cool enough to hang with the yoga girls. If anything could save an episode as awkward as this one, it was Reagan and Ava's crazy antics. However, the entire situation falls flat and just makes the normally lovably neurotic Reagan really depressing.
The Funlympics finally take place, and Reagan realizes being the wild and carefree friend to Ava doesn't mean anything and that being corny with her husband and daughter is what makes her life meaningful. It was a really sweet and cute way to end a less-than-stellar episode, and it reflected the entire series.
Up All Night might not be the best show around, but it always is heartwarming. Unfortunately a dash of an uplifting story doesn't make for great television. In the end, the show teeters on being slightly above-average, and hopefully the next couple of episodes send the show off with a bang before it goes into hiatus and it gets retooled once again.
Others Tagged With