We Barbarians Still Recovering from Hurricane Sandy, Need Your Help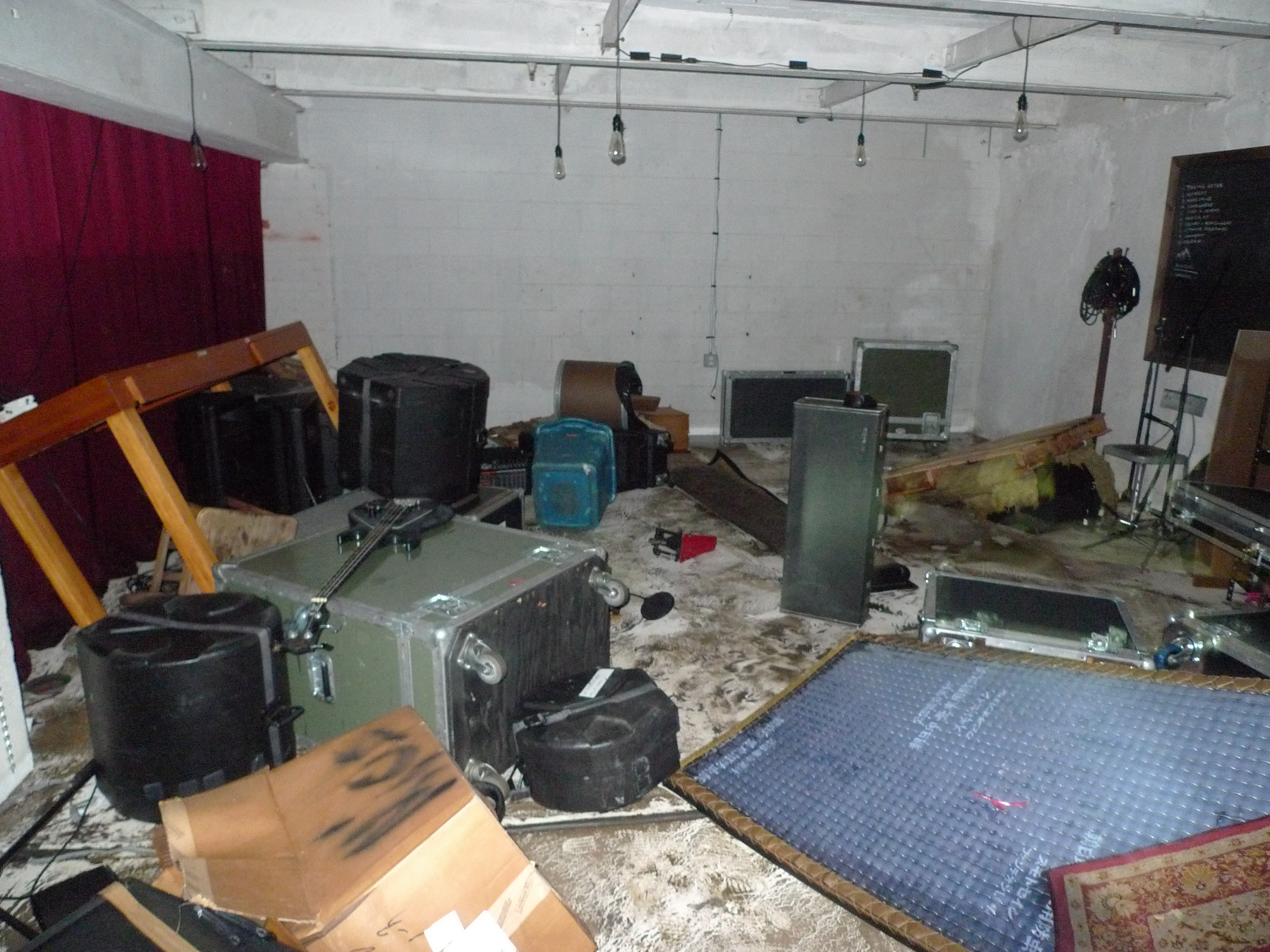 This week's Paste mPlayer featured a story on Brooklyn's New Amsterdam Records and their ongoing recover from Hurricane Sandy, which destroyed most of the contents of their Red Hook warehouse and office space.
For an artists or arts organizations with no insurance and few resources, the damage inflicted by a a superstorm like Hurricane Sandy can be catastrophic. New Amsterdam was hit hard—as was Norton Records, which also has a Red Hook warehouse—but so were countless bands and others who live or store their gear in affected areas.
One such band is We Barbarians, a trio of anthemic indie rockers who had moved to New York from California in 2011 to put themselves in "the hustle of everything." Their Greenpoint storage space was completely washed out by Hurricane Sandy, ruining tens of thousands of dollars worth of gear that had taken them nearly a decade to accumulate.
As was the case with nearly everyone, the magnitude and brute force of the storm took them by surprise. "We'd packed all our stuff up and put it four feet above ground, thinking there might be a couple of feet of water," says frontman David Quon. "We have a big roll up door to our space. We rolled it open, expecting it to be bad, but everyone's stuff was literally tossed in different corners. It's a really big industrial studio. At first we just looked at each other and were like, 'Is this a joke? Did someone come in and loot our space or is this from flooding?' It didn't even look like water could had done that." He later likened compared the effect of the surge to that of a washing machine. The band estimates that around $45,000 worth of their gear was destroyed.
"We've been doing this band for over five years," says Quon. "The other two and I were in a band previous to that, so it's been about 10 years of accumulating gear. As we were adding up everything, going through everything that was damaged or ruined, I was actually really surprised."
While We Barbarians' storage mates, Delta Spirt and Cults, who were both on tour when the hurricane struck, have received a sizable amount of national press over the past few years, We Barbarians are still trying to break through. After forming in 2007, the trio of lifelong friends put together two EPs before releasing their full-length debut, There's This There's That, in 2009. In 2011 they toured with the bands like Local Natives, Passion Pit and Foster the People, and earlier this year they released a new EP, Headspace, that was inspired by their relocation to Brooklyn. When Sandy hit they were just finishing up work on a new record.
"We're still a pretty small band," says Quon. "We've toured a lot, we're just about to get done finishing a record, so this is our livelihood. So it's like, shit man, what are we going to do? You see all these other people that don't have homes and who've lost lives, and we don't want to have a 'woe is me' mentality, but at the same time, any money that we've made we've invested back in the band, for gear and stuff. So it's a trip when all that stuff is taken away."
For someone who's had his livelihood stripped away from him, Quon was in surprisingly good spirits when I spoke with him. Despite losing everything, he and his bandmates have taken time to travel to Rockaway, an area where entire homes were destroyed, to volunteer and gain perspective in a place where not only were people's livelihoods destroyed, their entire lives were.
"The cool thing is that we're still in a band," he says. "We still have our songs. We'll rebuild again and get new equipment. It's not the worst."
Quon and We Barbarians have kept an optimistic outlook throughout the recovery process, but they need all the help they can get. Below, you'll find a link to their donation page, as well as similar fundraising pages from other members of the New York arts community who are still struggling to recover.
To donate to We Barbarians, click here and then follow the "Go here to donate" link at the bottom of the page.
To donate to New Amsterdam Records, click here. To donate to Norton Records, click here
Got news tips for Paste? Email news@pastemagazine.com.
Others Tagged With