Black Lips Planning New Album for Next Winter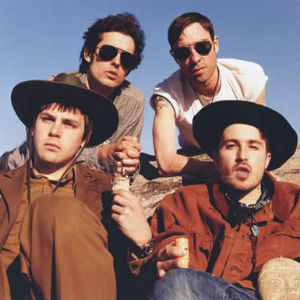 For those who did not sail the high seas on the S.S. Coachella, solace can be found in the unexpected music news surfacing from it. Previously Cloud Nothings discussed their next album and Pulp collaborated with James Murphy, and now news of Black Lips' 2013 recording plans have come afloat.
In an interview with MTV Hive, Cole Alexander shared that the band had "just sent [producer Mark Ronson] our first demos before we got on the ship." Ronson previously worked with the band on 2011's Arabia Mountain.
Alexander was forthcoming with details for the planned recording, set to begin in spring. The singer/guitarist referred to two Southern rock-influenced cuts, tentatively titled "Drive, Drive Buddy" and "Wild Boys in the Woods," respectively. Of course, any honoring of the band's heritage will come with a characteristic twist, as "Drive, Drive Buddy," is likened to "Lynyrd Skynyrd [as] an indie twee band." The band has even enlisted Brent Hinds from Mastodon to play banjo on the record to increase the Southern charm.
Other information could be classified as wishful thinking on Alexander's part, as he suggests that "maybe Bradford Cox will come on and do something." Both parties share a past, but Alexander adds that nothing has been planned yet. In addition, a connection was made with Killer Mike onboard the cruise, and the rapper could offer a remix of a proposed rap song for the album, or even appear as a guest on said track.
This may all sound like a strange start to the album, but Alexander thinks it could be the band's breakthrough.
"Having worked with Mark Ronson," Alexander explains, "the potential is there and I think I understand what it takes to have a hit song. This is the last record we have for Vice on our contract so we really want to take it to the next level."
Barring any unforeseen delays, expect the seventh Black Lips album in Winter 2013/2014.
Got news tips for Paste? Email news@pastemagazine.com.
Others Tagged With