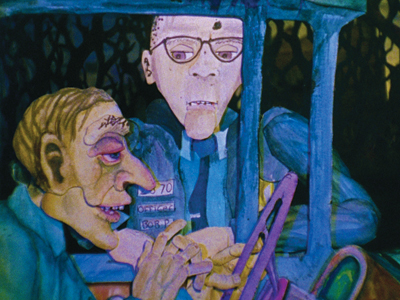 Fifteen years in the making, Chris Sullivan's Consuming Spiritsis the work of his lifetime—or any lifetime, for that matter. An animated film made for a mature and eccentric audience, it is less a portrayal and more a full-fledged actualization of a bleak, industrial Appalachian town called Gardener's Corners and the somewhat disturbed residents therein. It's dark both to the eye and to the mind, but through its incredibly deliberate craftsmanship, it glows.
The film begins with Gention Violet, a journalist at the local newspaper, hitting and killing a nun while driving one night. A shocking hit-and-run at first, it slowly fades into the host of minor tragedies that seem to define life in this town, or at least for the other main characters. There's Victor Blue, a fellow journalist who has an ambitious daily routine of boozing and forgery. And then there's Earl Grey, a radio host whose gardening advice show sounds banal enough to be innocent, but—just like everything in this town—is riddled with his haunted views on life.
Visually, the scenes coalesce into body of art. The mélange of stop-animation, pencil drawings, cutouts and glass etchings were planned and edited in a cyclical display of the varying techniques, each scene somehow different from the one before. The same is true for the stories, which constantly jump between the characters and their flashbacks (nightmarish, of course). What begins as disparate story lines are slowly woven together into a tightly braided narrative. Coupled with the animation cycle, the film feels like a labyrinth: a meditative, all-absorbing mystery that bursts with accomplishment in the end.
It's also dark—very dark. The town seems to live under a constant solar eclipse. Faces are weathered and wrinkled, voices are raspy and not self-assured, every family has skeletons that are unfortunately still alive if not already in the closet. There are no heartfelt love interests to invest in, no end goal to root for. Coloring is sparse and muted; this is no Disney film. Quotidian aches and troubles are all there is to latch on to.
But none of it is heavy-handed, and Sullivan quietly adds a layer of tenderness to keep the darkness from being oppressive. Consuming Spirits runs over two hours, which equals a lot of time to spend with three characters and all of their lingering "spirits." There's madness, there's regret, there's grain alcohol. Specifically with Gention, there is an obvious lack of love in her life that seems hopeless for her to fill. Happy theme? No. Heartfelt? Yes.
Each turn in this winding maze of a film is made delicately and slowly, demanding patience and more than a bit of empathy to make it all of the way through. But the animation alone is deserving of long attention and praise (not to mention the phenomenal ending, 15 years in the making). It's a long walk, but there's a reward well worth it at the end, and plenty of dark beauty along the way.
Director: Chris Sullivan
Writer: Chris Sullivan
Starring: Robert Levy, Nancy Andrews, Chris Sullivan
Release Date: Dec. 12, 2012
Others Tagged With