Craft Brewers Call For Transparency in Major Beer Companies' "Crafty" Beer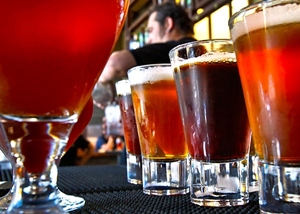 American craft brewing is becoming a lucrative industry, growing by 13 percent in 2011 and another 12 percent this year, even while the overall beer industry is down. Beer drinkers are no longer stuck with name-brand, commercial beers, opening their palates to different textures and tastes. This has lead to large brewers attempting to enter the craft beer marketplace.
The Brewers Association recently issued a statement in support of small and independent craft brewers asking for transparency as these major beer companies produce craft-imitating beers. Many supposed craft beers in the marketplace were actually the products of large breweries, which goes against the exact definition of what it means to be "crafty."
"The large, multinational brewers appear to be deliberately attempting to blur the lines between their crafty, craft-like beers and true craft beers from today's small and independent brewers," the statement read. "We call for transparency in brand ownership and for information to be clearly presented in a way that allows beer drinkers to make an informed choice about who brewed the beer they are drinking."
Beer drinking aficionados can find a complete list of U.S. breweries here.
Got news tips for Paste? Email news@pastemagazine.com.