Paste's 2012 Gift Guide for Design Lovers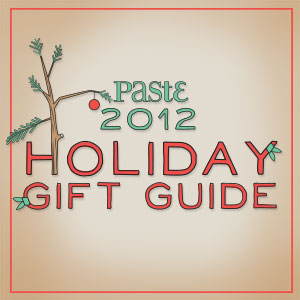 Designerds face a difficult problem around Christmastime: competition with other design-minded people who have that little knack for picking out the perfect gift. Whether it's for designers or just for people who love beautifully-crafted things with a bit of spunk, we've collected 11 of the favorite gifts that are sure to put a smug smile of success on your face when you watch them get unwrapped.

1. Good Fucking Design Advice Poster and Sans Fucking Serrif Tote bag
Price: Poster $27.50
Tote $11.00
Not for the faint of heart (or eyes, actually), these posters are filled to the brim with gritty design advice including "form follows fucking function" and "use fucking spell check." Who doesn't love a little gratuitous profanity from time to time? Honorable mention goes to their "Sans Fucking Serif" tote bag, perfect for the true sailor-mouthed type snobs.
2. Adobe Pillows
Price: $15.00 each, $80.00 for a set of six
Recently spotted at a fellow nerd's birthday party, these pillows are perfect for a good cry when Photoshop crashes or a deep, rewarding sleep when a project is (FINALLY THANK YOU GOD) complete.
3. Vintage Replica Eye Chart
Price: $84.00
This old-school eye chart has just the right amount of charm and sleekness, and is the perfect party piece (who wouldn't want to test their vision after a few drinks)?
4. Mix Tape Stamp Activity Kit
Price: $19.50
Harkening back to John Cusack's High Fidelity era, this mix-tape stamp adds a personal touch to the conventional mix CD. It's also the perfect gift to give if you would like to receive some mix CDs (nudge, nudge).
5. Fortune Posters
Price: One Poster $10.00
Set of eight $50.00
Forget the tasteless cookie, these fortune posters with actual phrases from fortune cookies are a delightful way to spread well wishes. When you order, one of the eight posters will be shipped. Not into the element of surprise? You can order the whole set of eight, as well.
6. Note to Self Pocket notes
Price: $6.00
With check boxes including: urgent, do, relay, file, burn and laminate, you can give the gift of order to your more organizationally challenged friends. Packaged matchbook-style with gold-foil lettering, your friends will be the epitome of stylish organization (unless they confuse the "burn" and "laminate" check boxes, in which case they're on their own!)
7. Music Color Wheel Prints
Price: £30 or around $48.00
Show off a wide spectrum of music taste with The Colour of Popular Music and The Colour of Song (yeah they're based in England so you'll have to pay a bit extra for shipping). These posters feature 154 Titles of bands with colors in the name and 576 tracks that include a color in their title "From Black Sabbath to The White Stripes, Purple Rain to Pale Blue Eyes."
8. Classic Rap Pencil Set
Price: $6.00
Classic No. 2s get even more old school with this throwback rap pencil set. Give the whole set to your favorite friend stuck in the past, or save the "momma said knock you out" pencil as a sly gift for an annoying coworker.
9. Prinstagram Mini Prints
Price: 2.5×2.5 mini squares (set of 48) $12.00
4×4 squares (set of 24) $12.00
Amateur photographers rejoice! These tiny prints of Instagram photos (instaprints) are a great way to personalize a home or office. They come in two sizes (2.5×2.5 and 4.4) on sturdy card stock with a matte finish.
10. Karlsson Wall Clock
Price $50.08
A perfect clock for modern design and a bit of cheek, but for the sake of punctuality you might want to get your giftee a wristwatch as well.
11. Wondermade Marshmallows
Price: $7.50 for a box of 16 mallows
With flavors like bourbon, Guinness and pumpkin pie, it almost doesn't matter what the packaging of these handcrafted marshmallows from Wondermade looks like (but in case you were wondering, the packaging is just as sweet as the treats inside).