Paste's 2012 Gift Guide for Movie Lovers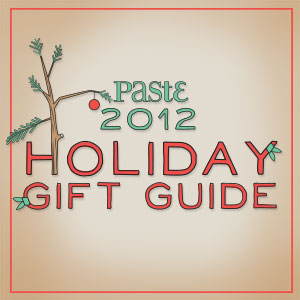 Everyone loves movies, but we all have those friends and family members that take that love… well, a little further. You know, the ones that camped out for the The Hunger Games. Three days early. In costume. Or the ones that never tire of regaling you with reasons Tarantino's Django Unchained, while clever homage, will never reach the pulpy heights of its '70s predecessor. Or the ones that save their money for that big January trip—not to some sunny beach, but to the dreadfully expensive and cold destination of Park City for the Sundance Film Festival. For those people in your life, here's a quick wish list:

Broken Kingdom and Kingdom Come, streaming films
$8 for the pair at the Broken Kingdom website
Broken Kingdom, Daniel Gillies' narrative film, is moving and wonderful, as we told you here. But for anyone who's trying to make independent films, or for anyone with family members trying to make independent films, Kingdom Come is absolutely required viewing. It's more than a fascinating "making of" piece, more than an intriguing (and star-studded) exploration of the current state of indiedom—it's a stirring shout of confederacy with all those throwing themselves into the effort to bring great stories to the screen.

Kickstarter contributions
Various levels at the Kickstarter Film & Vido Page
And once you're inspired by the odes above to indie film, why not go out and help make one happen? You can support a film in your film lover friend's name, and he gets the glory—and the rewards. Dig deep enough and you'll find some pretty amazing rewards in various film projects, including invites to premiere parties, walk-on parts, celeb encounters, and even Executive Producer credits.

Criterion Collection DVDs and Blu-Rays
Various prices at the Criterion website
Movie geeks will fight about just about anything. There's no conventional wisdom left unskewered, no basic assumption left unchallenged, no dancing angel foot left uncounted from the head of even the smallest pin. But the closest thing to universal agreement you'll get from a group of film enthusiasts is that The Criterion Collection rocks. Pick a title, even at random, and the recipient will thank you profusely.

Final Cut Pro video editing software
$299 at the Apple store
Because at some point iMovie just won't (ahem) cut it anymore. Apple swears this is the final installment in its legendary Final Cut Pro editing software series, and it was hugely controversial when it first came out last year. But it's ideally suited for beginners, and even many pros are beginning to warm up to it. By the time your friend is experienced enough to make his own decision, he'll be established enough that he can afford whatever alternate system he wants to use.

That Evening Sun Blu-Ray
$14.99 at Amazon
As Paste's film editor, I'm often asked by people what great movie they might have missed in the past few years. My first answer is always the same: I believe that That Evening Sun is one of the two or three greatest films of the last decade. A mountain of a lead performance by Hal Holbrook anchors a flawless cast. Helmed to perfection by writer/director Scott Teems, it's a modern classic, in every sense of the word.

Sundance Film Festival A to Z board book
$25 at the Sundance store
In his Paste interview, Todd Oldham told us about all kinds of little treasures in the Sundance Collection he's curated this year, but this little book is our favorite of the bunch—an illustrated A-Z primer of 100 Sundance films and people, printed on hard board stock like a children's book. Swoon.

Alfred Hitchcock: The Masterpiece Collection box set
$206.99 at Amazon
Simply put, the coolest Hitchcock box set ever, and it ain't even close. Fifteen films, including 13 never before available on Blu-ray, and over 15 hours of documentaries on the films, and much more. So cool we had to do a list of the best Hitchcock quotes just to commemorate it.

James Bond Archives book
$126 at Amazon
You've no doubt heard that this year marks the 50th anniversary of the James Bond franchise. The franchise's production company prepared by doing something so wonderful only the press release's language can do it justice: "To celebrate 50 years of this innovative franchise, EON Productions opened their archives of photos, designs, storyboards, and production materials to editor Paul Duncan, who spent two years researching over one million images and 100 filing cabinets of documentation." The result is a gorgeous book. Sure, it is a little pricey, but I'm—excuse me, I mean your friend is—worth it, right?

The Lord of The Rings Extended editions box set
$55.99 at Amazon
A friend who makes some of the most gorgeous indie films I've ever seen (you can see his work here ) swears that the next best thing to going to film school is watching all the dozens of hours of bonus features in the extended versions of the Lord of the Rings Blu-Rays. I've only just begun chipping away at them, but from what I've seen so far, I can't argue. While you're waiting for the next chapter of The Hobbit, satiate your friend's Tolkien thirst here.

Making Movies book
$10.95 at Amazon
The least expensive gift on the list, and possibly the most profound. Sidney Lumet was both a great filmmaker and a great man, and his passing last year was a huge loss to the film community. I haven't met a filmmaker yet who doesn't cherish this little book, but it holds treasures for the film buff as well—stories of Hepburn in Long Day's Journey Into Night and Fonda in Twelve Angry Men and Pacino in Dog Day Afternoon and a thousand more, but most of all, the wise insight and sage advice of the most humane of great filmmakers.