Paste's 2012 Gift Guide for Music Lovers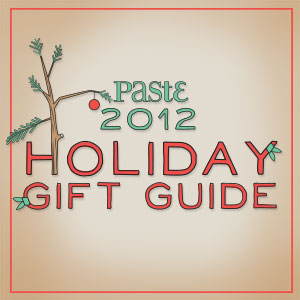 Page 1 of 2
With the rise of digital music, it's starting to become a little more difficult to find easy gifts for your favorite music fans. Thanks to some incredible box sets, some advances in digital technology and some assorted surprises from companies like Orange, there's still plenty out there to light up the faces of music lovers all over. We've taken a look at our favorite box sets, books, turntables and accessories for musicians below.
Box Sets:
It's that time of the year again for mouthwatering collections with pricetags that suggest that it's better to give these than buy them for yourselves. Here are some of our favorites of this year:
1. Death Cab for Cutie – The Barsuk Years
Price: $225
One of the most strikingly absent catalogs from the resurgence of vinyl records has to be indie darlings Death Cab for Cutie's. Their early work contains some of the most beloved albums in the early aughts, and looking back on classics like Transatlanticism and We Have the Facts and We're Voting Yes, it's easy to remember why. All of the albums are repressed on 180-gram vinyl, many for the first time (most notably You Can Play These Songs With Chords). It's all packaged in a sleek, numbered cloth-bound box, which is signed by the band individually. This is a must-have for any vinyl-loving Death Cab fan in your life.

2. Pedro the Lion Reissues
Price: $14/album
For years, it was hard to find It's Hard to Find a Friend—along with really any other album in the Pedro the Lion catalog—anywhere on vinyl. And for the first time, you can get your hands on Pedro the Lion's complete, remastered and repressed catalog for a reasonable price through the Undertow web store. Although the albums aren't being packaged as a whole anymore, you can still get them all at a reasonable price—around $14 bucks a pop. And nothing says "I care" on Christmas than gifting some of the most affecting indie records put out in the late '90s.

3. Beatles Vinyl Remasters
Price: Around $350
Okay, it's a hefty pricetag, we'll admit it. But for many fans, it's also, well, The Beatles. Here are all of The Beatles' albums you could possibly want (all 12 of their original U.K. releases) in one convenient box set, with 180-gram vinyl pressings and a massive 252-page hardbound book. It might be painful to shell out the $300 +, but it will absolutely please any Beatlemaniac.

4. Blur Box Set
Price: Around $175
If you missed the boat on some of the best Britpop of the '90s, it's not too late to discover Blur in its entirety with the massive, 18-disc, three-cd box set that celebrates the band's entire catalog—and the 21st birthday of its debut album, Leisure. Throw in the obligatory hardback, two stacked live shows and tons of rarities and here's a collection we'd love to revisit yearly.

5. Woody Guthrie – Woody at 100
Price: $69.99
With a birthday of July 14, 1912, Woody Guthrie would have hit 100-years-old this year. And there's no better way to celebrate the legendary songwriter's life than with a three-disc, career-spanning box set, Woody at 100. It's a collection that includes the best known tracks mixed in with 21 rarities and a 154-page book, which features essays and art.

Christmas Albums:
While the idea of getting a traditional Christmas album for Christmas might seem as attractive as an all-candy cane dinner, there are some alternative (and worthwhile) choices that might make for some great holiday traditions from here on out. Here are some of our favorites this year:
Jonathan Coulton and John Roderick – One Christmas at a Time
Price: Download – $10, Signed CD – $20, Deluxe Gift Box – $55
It was an amazing surprise for us at Paste to hear that Jonathan Coulton and Long Winters frontman John Roderick had a holiday album on the way. We've already heard a few great cuts in "The Week in Between" and "2600," and if they're any indication, these will be good ones to enjoy year to year. Plus, their description of the super-deluxe edition of the album makes this one an easy sell:
This is the special thing. This is the thing that will never be here again. A custom designed box containing a signed CD, the official "One Christmas at a Time" T-shirt, a custom Christmas ornament, and several other unique goodies that will remain a surprise until you and/or your loved ones feverishly tear it open on Christmas morning. Chances are you will not have to think very hard to come up with someone to whom you could give this as a gift and they would literally

WET

THEIR

PANTS

. Comes with an instant digital download link.
Sufjan Stevens – Silver and Gold
Price: Download – $15, CD – $30
If you're already not overwhelmed by video after video from Sufjan Stevens' brand new set of holiday songs, the box set has a lot in store for fans new and old. It's a massive collection that spans about two-and-a-half hours over five discs, including tracks that are as humorous as they are festive and touching. And if you jump for the physical edition, you get plenty of Stevens' signature Christmas goodies, including stickers and a coloring book. If you're not already convinced, check out an infomercial for the set by Stevens himself.
Books:

Neil Young – Waging Heavy Peace
Price: $30
Due to its wandering nature, legendary rocker Neil Young's Waging Heavy Peace might only be for hardcores. It's a memoir in title, which explores his roots, staying relevant in the modern day and family life. At 500+ pages, it is plenty of material for longtime Young fans to dig into while still looking to the future. Pair with his newest, excellent Psychedelic Pill for bonus points.

LCD Soundsystem Photobook
Price: $29.95
Although LCD Soundsystem might have broken up last year, they're making it hard to forget about (or stop contributing money to) them with the behemoth documentary Shut Up and Play the Hits, James Murphy's various oddjobs and now a 216-page photobook by Ruvan Wijesooriya, who has been taking photos of the band since 2004. The book even includes a forward by Murphy himself.

Will Oldham on Bonnie "Prince" Billy Edited by Alan Licht
Price: $11.99
Paired with editor Alan Licht, Will Oldham produces what our own reviewer Elias Leight called a "book-length interview" with himself. Between the two, it introduces more into the life of the elusive Oldham than we ever could have hoped for, including his unique philosophies on creating music under the Bonnie "Prince" Billy moniker.

Check out the next page for gifts for musicians, digital subscriptions, turntables, T-shirts, posters and more.