Paste's 2012 Gift Guide for TV Lovers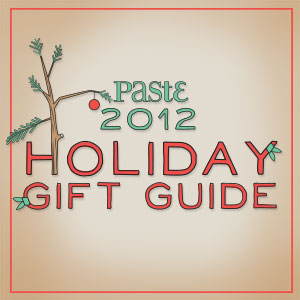 You can never go wrong with a DVD set of a favorite series or a subscription to a streaming service for the TV fan on your list, but thanks to crafty sites like Etsy and some more creative merchandising by networks, there are plenty of options if you're looking for something a little more out-of-the-box this year. Here are 10 of your best bets for temporarily tearing that TV obsessive away from the tube this holiday season.

The Fashion File: Advice, Tips, and Inspiration from the Costume Designer of Mad Men by Janie Bryant
$12.99 at Amazon
This book is a must for Mad Men fans looking to capture the swank '60s styles seen on the show. Bryant, who has an Emmy for her costume design on the series, reveals the inspiration behind each character's look and offers up tips and pointers on how to pair your own vintage pieces with modern accessories to create a more current ensemble.

Sonic Screwdriver Programmable TV Remote
$89.99 at ThinkGeek
Dr. Who fans, rejoice! If you've got a nice chunk of change to shell out, you can have your own Sonic Screwdriver infared remote to control all your electronics. The copper-plated remote is gesture-based, with three memory banks that will store up to 13 unique gestures.

Community Christmas Figurine Set
$49.99 at NBCUniversal Store
Community fans don't have a new Christmas episode to look forward to this year, so reliving season two's incredible claymation effort, "Abed's Uncontrollable Christmas," is the next-best way to spread some Greendale cheer around your home this holiday season. The set includes Jeff in the Box, BallerAnnie, Teddy Pierce, Snowman Chang, BrittaBot, Troy Solider and Wizard Duncan.

Dowager Countess Keychains
$8 on Etsy
Now Downton Abbey enthusiasts can carry the Dowager Countess' pearls of wisdom with them wherever they go with these keychains featuring Maggie Smith's face and some of her curmudgeonly character's best quotes. And if British wit's not necessarily your bag, the entire Peachy Apricot store is really worth checking out, as it features mugs and keychains of all your favorite Arrested Development and Parks and Recreation characters as well.

30 Rock Embroidered Throw Pillow
$45 on Etsy
As Jack Donaghy reminds us in season five, "Ambition is the willingness to kill the things you love and eat them in order to stay alive. Haven't you ever read my throw pillow?" If, like Jack, you fancy yourself a ruthless silver panther, your office won't be complete without this replica.

Arrested Development Shot Glass Set
$32 on Etsy
Toast the upcoming return of Arrested Development with these etched shot glasses, which feature the Bluth Banana Stand, Tobias and his analrapist title, GOB's declaration that "tricks are what a whore does for money" and everyone's favorite illegitimate son, Steve Holt.

Festivus in a Box
$22.95 on FestivusPoles.com
Opted out of the Christmas commercialism this year but still obligated to buy a few gifts? Seinfeld fans will appreciate the opportunity to celebrate Festivus with this kit, which includes the traditional Festivus pole, a copy of Festivus, the Holiday for the Rest of Us (with foreword by Jerry Stiller!), six cards to pass out to your friends informing them you've made a donation to The Human Fund on their behalf and a form to fill out before the Airing of Grievances. It's a Festivus miracle!

The Further Adventures of An Idiot Abroad by Karl Pilkington
$17.95 on Amazon
On the most recent season of An Idiot Abroad, Ricky Gervais and Stephen Merchant sent their pal Karl Pilkington around the globe to check things off of a "100 Things to Do Before You Die" bucket list. The only catch is, the list isn't his, and as this hilarious companion book to the show featuring Karl's travel diaries demonstrates, he has little-to-no interest in most of the adventures he's tasked with.

Boardwalk Empire Babette's Supper Club Poster
$9.99 on HBO Store
Pay tribute to one of Nucky Thompson's favorite Atlantic City hangouts with this poster inspired by Prohibition-era designs. Display it proudly wherever you sling your drinks—just make sure that's the only way you're emulating the baddies on this show.

It's Always Sunny in Philadelphia-inspired Painting
$50 on Etsy
You probably didn't think you needed a one-of-a-kind watercolor of Frank Reynolds (Danny DeVito) as a rum ham. How wrong you were.
Others Tagged With