Thom Yorke's Atoms for Peace Announces Feb. 25 Release for Debut Album Amok
Band also releases Eraser-esque Cover Art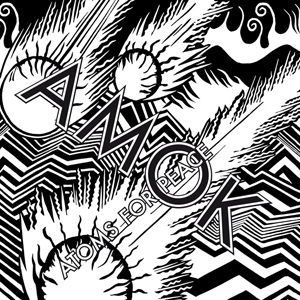 After months of speculation, Thom Yorke has arrived to announce the official release date for the debut album of his side project, Atoms For Peace. Comprised of Yorke on vocals, Nigel Godrich producing, Flea on bass, Joey Waronker on drums and Mauro Refosco on additional percussion, Atoms For Peace will release their debut album, Amok on Feb. 25 in the U.K. and on Feb. 26 in the U.S.
To tide fans over until February, Yorke advises fans to visit Atoms For Peace's official site for something to "stare at."
"We formed to learn to play The Eraser record, if you don't know that, and discovered a really good energy doing that… and it fell into this record," Yorke said in a press release.
"I'm still reeling from being on tour for much of the year but we are planning to get together and play etc next year ! We're figuring all that out right now.
"Atoms is a ongoing and open ended project, where it leads i know not for certain… which is what is nice about it."
The album can be pre-ordered now here.
Amok Tracklist
1 – Before Your Very Eyes
2 – Default
3 – Ingenue
4 – Dropped
5 – Unless
6 – Stuck Together Pieces
7 – Judge Jury and Executioner
8 – Reverse Running
9 – Amok
Got news tips for Paste? Email news@pastemagazine.com.
Others Tagged With