British Comics Icon Judge Dredd May be Gay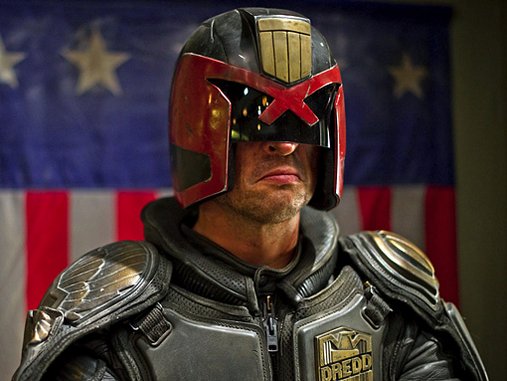 Though he lives in the year 2135, British comics icon Judge Dredd can still cause a stir related to today's social and political conversations. The newest edition of 2000 A.D., which comes out on Wednesday, addresses the topic of homosexuality and is titled "Closet." The question that remains to be answered is whether or not Judge Dredd will be coming out as well.
A representative of 2000 A.D.—the science fiction anthology of which the Judge Dredd comics are the most famous creation—told the Independent that there's been "quite an extreme reaction" to the photo released earlier this week of the futuristic lawman kissing another man in a gay club.
The spokesman's statement didn't entirely dispel the mystery, however, because he also said that the scene takes place at a Judge Dredd-themed gay club where there are several men dressed in the iconic uniform of the Mega-City One Justice Department.
According to Judge Dredd writer Rob Williams, "[Putting] Dredd in a gay club filled with men dressed as him is a pretty funny image. It's worth it for that alone." He also said, "Sure, Dredd could be gay… [but his] feelings are so deeply hidden, he is extremely unlikely to ever let them show."
Judge Dredd is by no means the first comic book hero to raise questions about sexuality. This follows last year's announcement that DC Comics' Green Lantern of the Golden Age is gay, as well as the same-sex marriage of Astonishing X-Men's Northstar.
Check out the photo that sparked the controversy below.
Got news tips for Paste? Email news@pastemagazine.com.
Others Tagged With