Comic Relief with Hellboy Creator Mike Mignola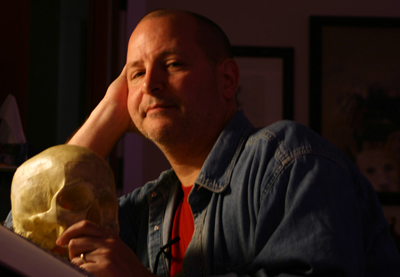 Page 1 of 2
In Comic Relief, Paste chats with some of the most influential writers and artists in comics about their work and the comics that inspired them.
Introduced in 1993, hulking paranormal investigator Hellboy spent the majority of his life battling mythological monsters and his looming destiny as the Beast of Revelations, created to lead the armies of the abyss. Writer and artist Mike Mignola crafted a post-modern treasury of folklore, myth, and religion, illustrated in angular panels dripping with atmosphere and action. The comic ushered decades of gothic and pulp influences into a streamlined narrative that reintroduced the macabre to a new generation. But if a world of steam-punk gorillas, cult werefrogs, and Russian witches in chicken-legged houses wasn't exotic enough, Hellboy is about to get a lot stranger.
Last month, Hellboy finally visited home. After a dying dragon ripped out his heart, Big Red descended into a haunting underworld that abandoned all semblance of normalcy. And his creator couldn't be happier. "The whole point of hell is that it's so much my world, I couldn't even explain to somebody what things should look like. As an artist, there's a lot more discovery building my uniquely-me world" Mignola says. "I'm precious and greedy about making this world myself."
With its second issue released this week, Hellboy in Hell arms Mignola with a new canvass to unload his imagination without the restrictions of earthly geography. Rotting sea towns and Lovecraftian monsters stand alongside cloaked mages. And then there's the intermittent puppet shows. As Mignola puts it, "this is going to be a weird book."
Mignola's signature brand of weird has made its mark in both Hollywood and comics. Francis Ford Coppola recruited the arist to create new sequences for his 1992 Dracula film, which is also the book that inspired Mignola's gothic sweetooth as a teenager. Mignola also provided production design and art direction for movies ranging from Atlantis: The Lost Empire to Blade II, where he would work alongside long-time fan and eventual collaborator Guillermo del Toro, who would direct the first two Hellboy movies and also recruit Mignola to design art for The Hobbit before dropping out.
Candid and witty, Mignola was kind enough to talk with Paste about the first comics he read, his bold new direction on Hellboy, and some of the other projects percolating in his universe.
First Comic Drawn
Mignola: The first comic I ever drew was a backup feature in an issue of Marvel Fanfare. It was a Sub-Mariner story.
Paste: That seems appropriate. Sub-Mariner is such a weird Kirby character (originally created by Bill Everett, later relaunched by Stan Lee and Jack Kirby) with a supernatural bent.
Mignola: I wanted a supernatural story set entirely underwater, because it would be all moody and spooky. And what the writer (Bill Mantlo) gave me had a little bit of that, but it was mostly a drowning horse in a sinking ship. And for my first time out, having to draw Sub-Mariner trying to save a drowning horse was a real pain in the ass.
First Comic Read
Mignola: I have no idea. I'm sure it was one of those little kid comics. But my cousin, who was six years older than me, was buying Marvel and DC stuff, so the comics that made an impression on me early on weren't the ones that I was reading, but the ones that he had.
Paste: What were some of those comics?
Mignola: Issues of Fantastic Four. Issue #67, which is still one of my favorite comics, is one that he had. Early Tales of Suspense. Also Doom Patrol. I don't think he was a big DC guy, but Doom Patrol made a big impression. I don't know if I read any of these, but just visually they were driving me crazy.
Favorite Comic of All Time
Mignola: I still go back to that Fantastic Four; I think it's #67. It's certainly around that era. Those Stan Lee/Jack Kirby Fantastic Fours are my favorites.
Favorite Current Comic From a Publisher You Don't Currently Work For
Mignola: You know…there's gotta be something (laughs). I look at so few comics these days. I can't say. All I can say is that I don't follow any of the Marvel or DC stuff. Occasionally I see cool, little independent stuff that I like, but I can't say that I have a favorite right now.
Artist You Haven't Worked With Who You Would Most Like To
Mignola: Hmmm. It's going to sound horrible if I say no. But really right now my focus is so much on doing my own stuff. I've been very fortunate to work with the guys who I've worked with. Richard Corben. Never in a million years would I think I'd get to work with Richard Corben. I'd love to work with him again. I'm very happy with the guys who I'm working with now, and really excited to be doing my own stuff.
Favorite Comic Book Movie
Mignola: Aye yai yai. (Long pause). Hmmm. There are so many of them now. It's a tie. Road to Perdition and A History of Violence. Both comics I've never read, which is maybe why I like the movies so much. And they're probably two movies that people don't know are comic book movies. But those are the two favorites off the top of my head.
Paste: Those comics are fairly different from their movie adaptations.
Mignola: Well, what I love is that they're just real films. And I'm sure when this question is asked, 99.9% of people answer it with comics films in mind only as superhero films. As far as superhero films, I still think RoboCop is the greatest superhero/comic book film, because it wasn't a comic, but it felt so much like a comic. I'm not a big fan of the Batman movies that (Christopher Nolan) did recently. But I thought the first Iron Man was just great. I think some of the Marvel stuff is really good. Unfortunately, so much of it is like doing a monthly comic. They're just introducing new characters and not really doing a story. But I thought that first Iron Man film did such a great job of capturing, without radically changing, the spirit of what Iron Man was all about. And I thought Captain America also was really good. It's not like I hate all superhero films.
Craziest Fan Story
Mignola: Everybody's got 'em. I can't think of one off-hand. I have a great "good" fan story. I met John Buscema shortly before he died. I'd always been in awe of that guy, and I met him at San Diego (Comic-Con International). I didn't think I'd meet him, but he came up to me, and we had a great 5-minute conversation. He left and we were going to get together and go out to lunch when we got back to New York. And then a couple months later he was dead, so that was very sad. But the next year at San Diego, I'm just zooming through the room and this kid stops me and says, "I was hoping I would run into you," and he handed me a framed photo of me talking to John Buscema. This guy printed it up, got it framed and brought it to me at the San Diego show, where you have no idea if you're actually going to run into people. I thought that was one of the greatest fan moments ever.
Paste: That's surreal.
Mignola: Yeah, that's a good one. San Diego is good for surreal shit like that.
Click over to Page 2 to read about Mike Mignola's finale for Hellboy, the possibility of a third movie, and the two mystery titles currently in development.

Others Tagged With