Dolls Based on Django Unchained Banned from eBay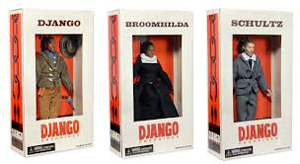 The Weinstein Company made action figures from the film Django Unchained a precious commodity when they told toy company NECA to stop production.
As reported by Deadline.com, the dolls sparked an outcry from civil rights activists who thought the action figures were offensive. As a result, the Weinstein Company pulled the dolls from retailer shelves and halted further production.
Since the dolls were no longer available from retailers, interested customers flocked to the notorious consumer-to-consumer market that is eBay. As these things go, so much demand and so little supply caused the prices of the Django toys to skyrocket.
According to the report, eBay has now halted sales on the dolls as their prices have reached levels of $2,000 and above.
An eBay representative told Deadline their reasoning for ceasing sales, stating the doll listings "were removed as they were in violation of our Offensive Materials policy." They said eBay doesn't allow offensive products "that graphically portray graphic violence or victims of violence, unless they have substantial social, artistic, or political value." Guess the toys based on Quentin Tarantino's slavery-themed film don't apply.
See some of the few high-priced listings left in the gallery below.
Click an image to see it full size. To move to the next image, click on the image or use the right arrow key.
Got news tips for Paste? Email news@pastemagazine.com.
Others Tagged With