Frank Ocean and Chris Brown Brawl Over Parking Spot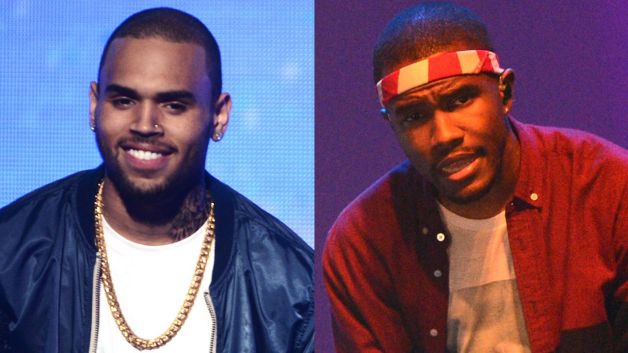 Update: It appears as though the situation has quickly escalated. According to an interview with L.A. County Sheriff's Department's Steve Whitmore in the New York Daily News, Ocean is "desirous of prosecution." Brown's lawyer Mark Geragos, meanwhile, states that Brown is perfectly willing to cooperate with police in the investigation, according to a report by TMZ. Furthermore, he says that surveillance tape footage will show that the fighting was only between the singers' two entourages and that his client never threw a punch (that being said, the tape only captures the end of the fight). As to why Brown fled the scene before police arrived, the report says that this was a strategy burned into Brown by Geragos, who told him that if he "ever got in a situation where trouble was brewing, he MUST leave immediately." Brown insists on his innocence, going as far as to post a portrait of a crucified Jesus on his Instagram and then writing, "Painting the way I feel today. Focus on what matters!"
Original Text: First Drake, now Frank Ocean. Chris Brown just seems to have a vendetta against those with more critical acclaim than him (i.e. most people).
TMZ reports that Brown and Ocean got into an altercation last night at a Los Angeles recording studio. In typical L.A. fashion, the argument was over a parking spot.
According to the report, Brown's reps claim that Ocean blocked the "International Love" singer from leaving the studio and yelled "This is my studio. This is my parking spot." When Brown attempted to ease the situation, Ocean and his camp attacked them.
Ocean, however, took to Twitter to tell a different story, stating that Brown threw the first punch. "Got jumped by chris and a couple guys lol. i only wish [his dog] everest was there," he tweeted.
As of now, there has been no official arrests made, and neither side has yet to press charges. For Ocean, however, this incident will have a major effect on his upcoming Grammy performance.
"cut my finger now I can't play w two hands at the grammys," Ocean tweeted.
Ocean stuck around to talk with police afterwards. As such, the ongoing investigation refers to him as the victim in the situation.
Got news tips for Paste? Email news@pastemagazine.com.
Others Tagged With