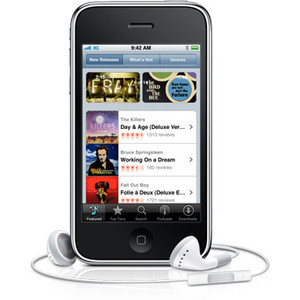 Platform: iOS
Price: Free
To say that I'm a newcomer to streaming music and radio apps is an understatement. Call me old-fashioned, but I'm still in many ways attached at the hip to my iTunes library and other forms of "owned" music. I want control of what I'm listening to, so streaming procedurally generated playlists based on some faulty algorithm or what the song's "genre" is doesn't have much appeal to me. What is perhaps even more shameful to admit to, with all the apps and online radio stations out there, I haven't yet found one that replaces the good 'ol radio for those times when I don't want to be micro-managing my playlist.
Enter Fuzz.
Fuzz is a newcomer to the online music streaming/radio of sorts as well. When the Fuzz beta launched to the public in September of last year, they entered a market space that already feels pretty crowded. Serious music listeners will turn to Turntable.fm or Last.fm for their DJing needs while Pandora still seems to make the most sense for casual listeners. Co-creator Jeff Yasuda and co-founder of Blip.fm, however, set Fuzz apart by calling it "people-powered radio". The slogan seems kitschy at first, but Fuzz really does work. It's a music-listening and DJing web app that has found a surprisingly natural way to let people listen to and share music.
Getting started on Fuzz involves going out and listening to some other users' stations based on title, description, and popularity of the station. You can save these stations into a "Favorite Stations" tab on your profile which you can quickly access when you need some tunes to shuffle through. Soon enough, you'll be re-posting these songs into your own unique stations and possibly even seeing random people listen to your station.
It's not the slickest web app and it certainly isn't as imaginative as something like Turntable.fm. However, Fuzz gets right what I've always wanted in an internet radio service: satisfying functionality as both a listener and a DJ. Listening is just as simple as turning a dial on your car radio and DJing feels equally satisfying.
Doing the iOS app right is a critical part of getting people to buy into the Fuzz radio experience. Unfortunately, as of now the Fuzz app feels more like a companion to the website than a full-fledged experience of the service. You can listen to your favorite stations, find stations based on the music on your phone, and play stations that you're DJing. Unfortunately, there isn't currently a way to add songs to your stations or to see the profiles, comments, and more basic social tools that the website employs. And while you could certainly make the argument that these features aren't necessary to have in an iOS app, the interface doesn't feel minimalist enough to justify their absence.
Furthermore, the app doesn't exactly cater to new users either, considering that it doesn't clearly explain how profiles or personal stations function. You're going to need to open up your computer and really start digging into the features beforehand if you want to get the most out of the Fuzz Radio app. With all that being said, the app works well enough for those already familiar with the service and is a welcome addition to the internet radio apps out there. Most importantly, the app gives me the ability to AirPlay some excellent, "people-powered" radio stations to my living room when we have parties. In many ways, it just might be the radio-replacement I've been waiting for.
Others Tagged With