Host of MTV's Catfish: The TV Show Investigates Manti Te'o Girlfriend Hoax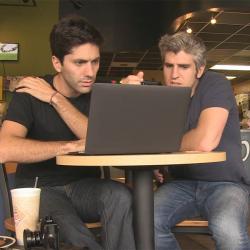 While investigating the Manti Te'o girlfriend hoax, host and executive producer of MTV's Catfish: The TV Show, Nev Schulman, tweeted Thursday morning that he found two Twitter users who allegedly knew about the Lennay Kekua hoax all along.
The Manti Te'o girlfriend hoax story began when it was reported that Te'o's girlfriend, Lennay Kekua, passed away from leukemia within hours of his grandmother's death, after which, despite his grief, he went on to have great success on the football field, according to The New York Times.
The story of the University of Notre Dame linebacker Manti Te'o became one of the most inspirational college football stories of 2012, as the player seemed to overcome overwhelming grief to lead his team to a national championship game.
But now Deadspin has reported that Te'o's girlfriend never existed.
Notre Dame's response to the Deadspin article stated that Te'o was the victim of a hoax in which someone used a fake name, developed a relationship with Te'o and then "conspired with others to lead him to believe that she had tragically died of leukemia."
Te'o released his own statement essentially saying the same thing: he'd been duped.
According to Notre Dame's athletic director, Jack Swarbrick, Te'o found out that he'd been duped in early December and Notre Dame was notified about the situation by Te'o and his family on Dec. 26.
Deadspin broke the story on Jan. 16, after investigating an emailed news tip about Te'o's girlfriend.
That same day, Schulman, the host of MTV's Catfish: The TV Show, announced via Twitter that he was investigating the Manti Te'o story.
Catfish: The TV Show, is a reality television show based on the 2010 documentary, Catfish directed by Henry Joost and Ariel Schulman and starring the directors and Nev Schulman, the current host of the televised series on MTV. In the film, Schulman seeks the truth about a relationship he developed with a woman he met online.
A "catfish," as defined in the televised series, is a person who designs a fake social media profile with the intent to mislead and/or attract people online.
Others Tagged With