Nashville Review: "You Win Again" (Episode 1.11)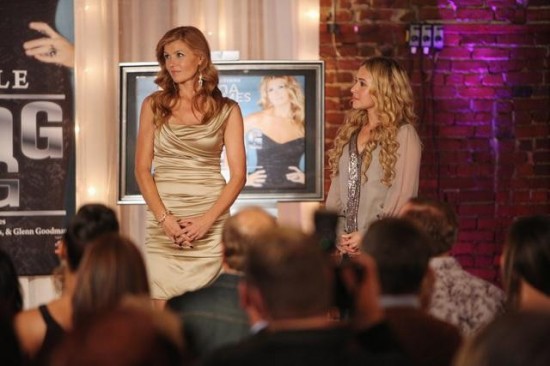 Nashville has been a little perplexing since it returned for the second half of its inaugural season. The country soap opera has had some snags throughout its short run, but eventually it hit its stride, grabbed some award nominations and validated itself.
"You Win Again" was the first show since the winter hiatus that really stood out to me, and it was perhaps the best hour the show has produced yet. Old storylines are coming to fruition and new ones are blossoming as Rayna and Juliette have hit the road and are giving fans exactly what we want.
Rayna is finally back on top. Well, co-back on top after her and Juliette's single hits No. 1 and there's a lot of change because of it. Rayna rocks the stage every night, leaving the younger starlet looking a little (read: very) jealous. It looks like all of the former country queen is almost back to reclaiming her throne. Calista, a hot-shot record exec, wants to sign a deal with Rayna, but the musician still feels like she owes Edgehill one more album.
Meanwhile, Juliette, when not turning green over Rayna's success, finds herself in the courtroom once again. This time it's to speak on behalf of her mother, who is nearing the end of a rehab stint and facing charges. While there she reconnects with Deacon, who quit his touring gig last episode, but now it's all turned around after he fell off the wagon and was fired. The story follows Deacon as his morale spirals downward. The best scene of the night was a combatant and intimate conversation between him and Rayna that explains a lot of their past and the rift that continues to grow between them. Now that the show has set the stage with the basics, it continues to delve deeper into the characters, which is where it really pays off.
Later in the show Rayna's current label throws a huge party to celebrate the hit, and Rayna learns Liam is working a deal behind her back. You best believe you don't do that to Rayna without consequences. So Liam's fired and an obvious spot for Deacon to fill in. My hopes were seemingly dashed after another terrific scene when Deacon reveals to Juliette that he never got sober for himself, but it was always for Rayna. It doesn't look like he can play alongside the love of his life while she's unhappily married to the recently elected mayor. Instead he chooses to play with Juliette. Say hello to even more drama-goodness.
The subplot revolves around Avery's success and his old band coming to Scarlett to try and convince her and Gunnar to start a band. Bubbly Scarlett loves the idea; however, Gunnar, who is stressed about his now-fugitive brother, lashes out at how she's too bubbly and doesn't take things seriously. Gunnar's attitude this episode towards Scarlett is not okay. Luckily, he gets his head out of his ass and joins up with the newly formed band because he, like all of us, just wants the good guys to win."
The entire show was incredibly well-assembled, and I really enjoyed the fact that all of the little threads of the Nashville universe are coming together. None of the main characters ever felt like they'd cross paths when the show first started, but it looks like everyone is on a collision course now that we're deep into the first season.
Don't worry though. It's not too difficult to catch up on this Golden Globe-nominated show. Jump right in and embrace this Southern dramatic darlin'.
Others Tagged With